Nusrat murder case charge sheet this month: PBI chief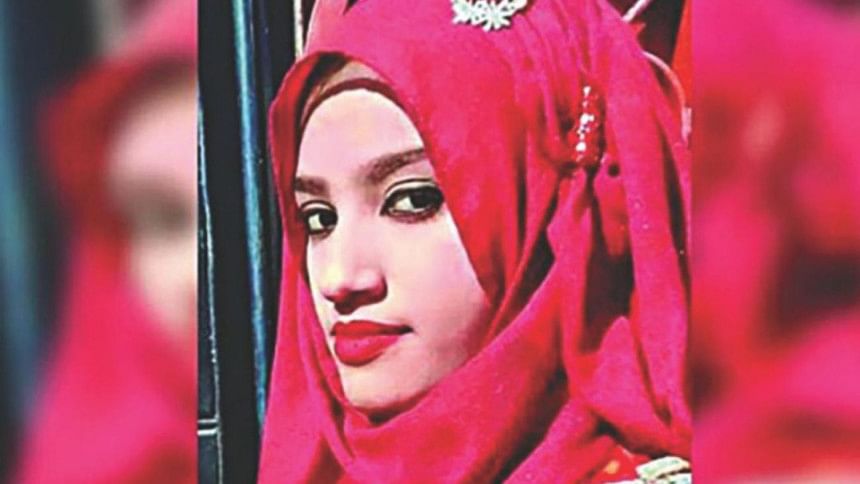 Charge sheet against 16 people will be submitted in Nusrat murder case this month, the chief of the Police Bureau of Investigation (PBI) said today.
PBI is almost at the end of the investigation, its chief Banaj Kumar Majumder told reporters after attending a function at the Bangladesh Film Development Corporation (FDC).
"We will conduct a woman-friendly investigation. We won't compromise here," the PBI chief said.
Answering to a query, Banaj Kumar said investigation into the case filed against former officer-in-charge (OC) of Sonagazi Model Police Station Moazzem Hossain under the ICT act will take some more time.
The case was filed against the former OC on charge of recording a video of Nusrat without her consent and spreading the footage on social media.
PBI has already appealed to the court for granting them the required time, he said.
They have seized the mobile phones of the OC and the sub-inspector of the police station in connection to this case, he added.
PBI will appeal to the court to give the highest punishment for the accused, Banaj Kumar said.
WHAT HAPPENED TO NUSRAT?
Nusrat Jahan Rafi, a student of Sonagazi Islamia Senior Fazil Madrasa, was set ablaze on April 6 allegedly for refusing to withdraw a case filed against the principal for sexually harassing her late last month.
Only a few minutes before the Alim exams on April 6, four unidentified people allegedly took Nusrat to the roof of the three-storey administrative building of the madrasa saying one of her friends was being assaulted there, victim's brother Mahmudul Hasan Noman had told this newspaper earlier.
She lost her battle for life on April 10, five days after she was set afire -- an incident that sparked outrage all over the country.
A total of 18 people was arrested for their alleged involvement in murdering of Nusrat Jahan Rafi, PBI told the reporters earlier.