Nusrat murder: 3 accused sent to jail after remand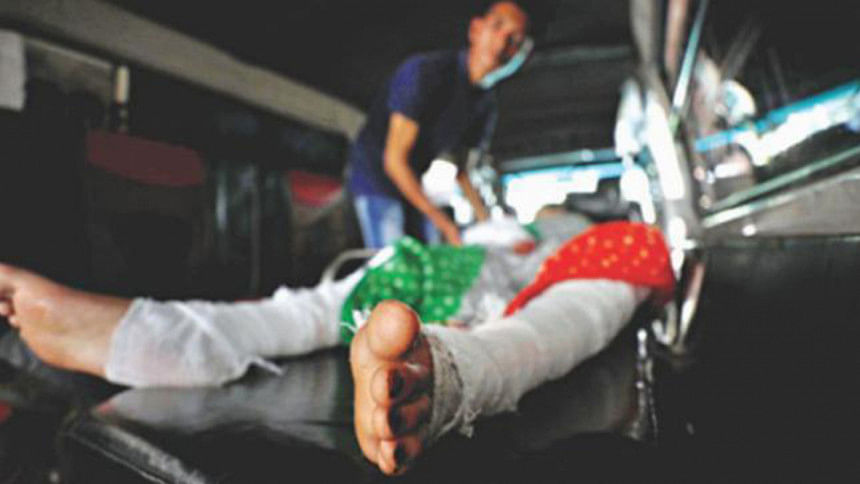 The three accused of Nusrat murder case, who were placed on a one-day remand by a Feni court yesterday for interrogation, were sent back to jail today.
The court of Senior Judicial Magistrate Md Zakir Hossain passed the order after Police Bureau of Investigation (PBI) produced the trio-- Shahadat Hossain Shamim, Javed Hossain alias Sakhawat and Saifur Rahman Md Jobair—at the court on completion of their one-day remand, reports a Feni correspondent.
Also read: Nusrat Murder: PBI recovers glass used to pour kerosene
Yesterday PBI recovered the glass that was used to pour kerosene on Sonagazi madrasa student Nusrat Jahan Rafi based on the information given by the accused during the remand.
A team of PBI took along the case's three accused to the madrasa to recover the glass, based on their statements.
The glass was recovered from a wall cabinet inside Sonagazi Islamia Madrasa principal's office located on the first floor of the institution's administrative building.
Earlier, Senior Judicial Magistrate Md Zakir Hossain placed each of the three accused on one day's remand against a prayer for two days' remand for each.
The fresh remands for the trio were sought for recovery of further evidence and for further interrogation.
According to the court, in a declaration made before her death, Nusrat said before her attackers set fire to her, they had used a glass to pour kerosene on her.
Until yesterday, the glass, a crucial evidence in the crime, could not be recovered.
The three accused in remand and two girls, all wearing burka, set Nusrat on fire after tying her hands and legs with rope. 
On April 6, Nusrat Jahan Rafi, a student of Sonagazi Islamia Senior Fazil Madrasa, was set on fire, allegedly for refusing to withdraw a case she had filed against her madrasa principal for sexually harassing her in late March.
She lost her battle for life on April 10, five days after she was set afire -- an incident that sparked outrage in the country.
So far, a total of 21 people have been arrested for their alleged involvement in Nusrat Jahan Rafi's murder and 18 of the arrestees have been placed on different terms of remand.