'HC will interfere if it finds negligence in Nusrat murder probe'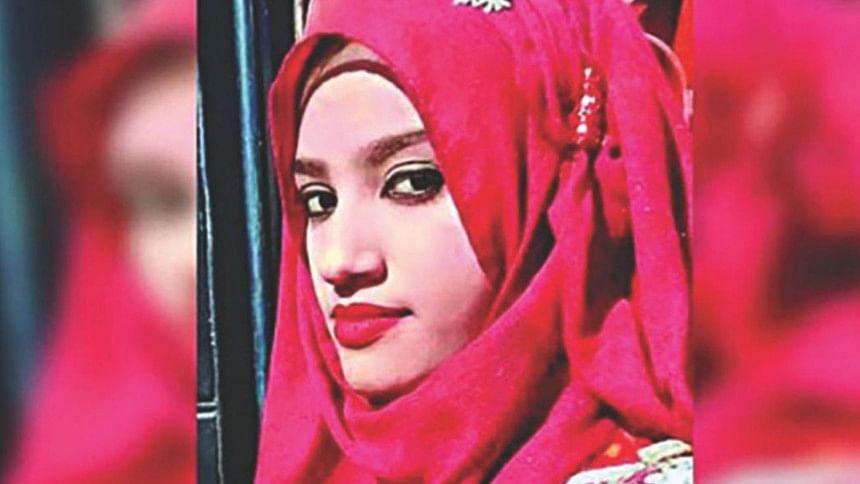 The High Court today said it would interfere if any negligence is found in the investigation into the murder of Feni madrasa student Nusrat Jahan Rafi.
The HC bench of Justice Sheikh Hassan Arif and Justice Razik-Al-Jalil made the comment while Supreme Court lawyer Barrister Syed Sayedul Haque Suman prayed to the court to issue a suo moto directive for conducting a judicial inquiry into the murder of Nusrat.
The lawyer placed some newspaper report on Nusrat's death before the HC bench saying that the incident has sparked protest across the country and a judicial inquiry should be conducted to identify and punish the culprits.
The court mentioned said that Police Bureau of Investigation (PBI) is holding an inquiry into the incident and Prime Minister Sheikh Hasina herself is also concerned regarding the incident.
All concerned should be careful so that the murder of Nusrat is not forgotten like the murders of journalist couple Sagar and Runi, Tonu and Mitu, it added.
Madrasa student Nusrat Jahan Rafi lost her battle for life yesterday at 9:30pm at the burn unit of Dhaka Medical College Hospital (DMCH).
For filing a complaint accusing a madrasa principal of sexual harassment, she was set on fire just a few minutes before her Alim (equivalent to HSC) examination by four unidentified persons.