Nightmare named Lane 17 at Mirpur 11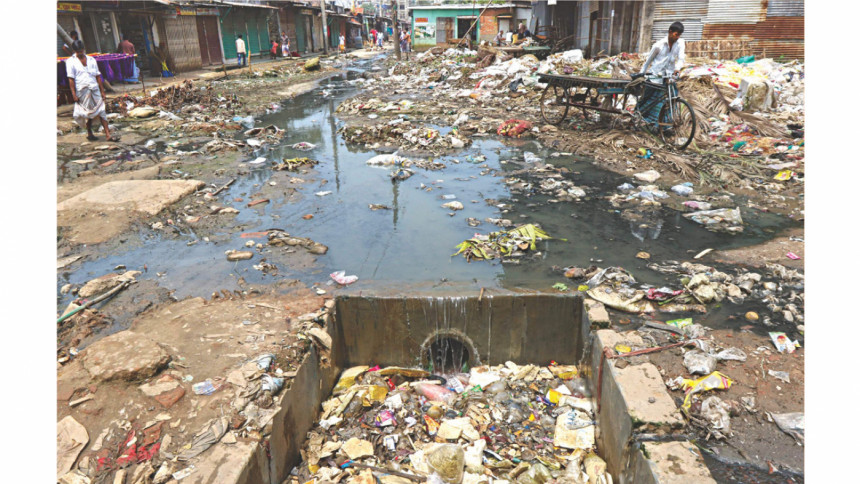 Parul Akhtar now dreads walking Lane 17.
A few days ago when wading through knee-deep water on the street, she was suddenly sucked into a hole hidden under water.
"I was about to die," she recalled.
Parul has to use the lane in the capital's Mirpur-11 six times a day to have extra tuition.
At first sight, a stranger might make the mistake that the road has been abandoned. And it would be hard for one to imagine that thousands use it every day.
However, the terrible state of Lane 17 has remained the same or deteriorated over the past four years, with the authorities concerned totally unperturbed.
It is connected to Paris Road, Purobi-Kalshi, and Bazar roads in the area.
In dry season, most parts of the lane remain under raw sewage, and during the monsoon it goes under knee-deep water, causing immense sufferings to the residents.
Although Dhaka North City Corporation (DNCC) repaired Paris Road around seven months back, it overlooked the link road, said locals.
"A medicine specialist advised me to relocate my shop to get rid of allergy as I cannot avoid the road with heaps of dirt on it," said Md Hasan Uddin, owner of a pharmacy.
The patients are the worst sufferers as no vehicles even rickshaws can ply the road, he said.
Many traders and tenants have already relocated, and many more are planning to move out, said Nur Alam, 75, a resident, who walks to local mosque regularly to pray.
Kamal Hossain, owner of a fabric store on the lane, said, "Sales have dropped by more than 50 percent as customers are reluctant to visit my shop."
After visiting the area, the DNCC mayor told locals that it would take some time to repair the road.
Syed Qudrat Ullah, additional chief engineer of DNCC, said Wasa was setting up pipelines there. On completion of the work, they will start repairing the road, he added.