N'ganj teacher wants justice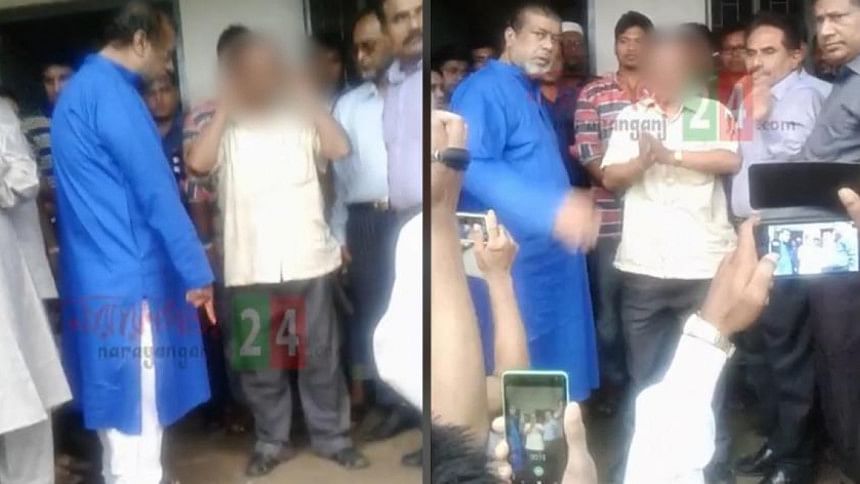 Shyamal Kanti Bhakta, the school headmaster of Narayanganj, wants justice for his humiliation over the allegation of his disparaging statements about religion.
He said this while giving an exclusive interview with private television channel Ekattor TV today.
READ MORE: Supporters of Bangladesh MP now out to hush voices
The channel sought his comment while it was airing a press briefing organised by local lawmaker AKM Salim Osman at Narayaganj club.
"On that day, the local MP slapped, took me in front of the mob without listening a word. ….. I want justice for the humiliation," Shyamal told the TV.
Locals in presence of the MP punished Shyamal, headmaster of Piyar Sattar Latif High School in Bandar area, for allegedly making offensive comments about religion while meting out corporal punishment to a student of the school on May 8.
Shyamal was beaten up by the mob and made to squat holding his earlobes in the presence of the Jatiya Party lawmaker.
ALSO READ: Humiliation of teacher: Islamist group comes to MP's defence
A video clip of the incident has gone viral on social media, triggering public protest on social networking sites.
After that, Facebook users began uploading photos in their profiles, showing they were holding their ears in a token of apology shown to the headmaster with a "sorry sir" statement.
The teacher was suspended from the school later. He claimed the locals were provoked by false allegations and that some teachers held a grudge against him for not meeting their unfair demands.
Following his suspension, the government formed an investigation committee over the humiliation incident.
Today, Education Minister Nurul Islam Nahid reinstated Shyamal and scrapped his school's governing body over public humiliation of the teacher.