Young writers find eager publishers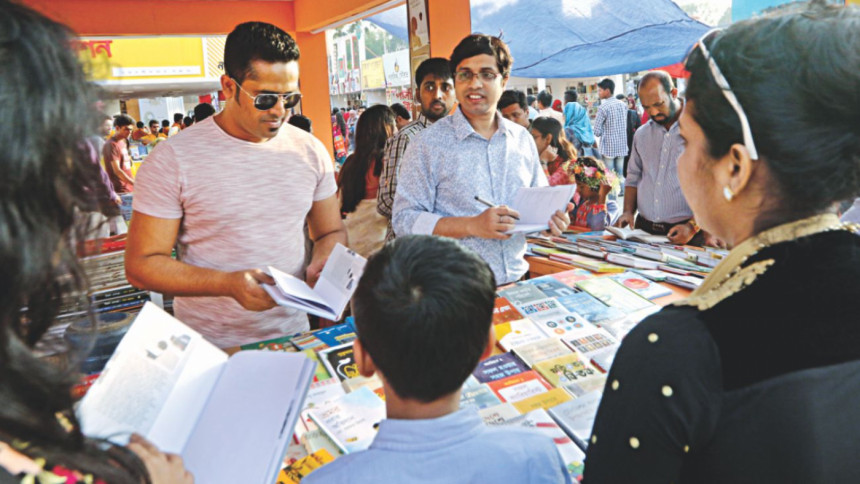 There was a time when young, aspiring writers had to struggle to get their work published but things have changed for the better. Publishers are now showing interest in young writers which was evident at the month-long Ekushey book fair. 
"I'm getting good response from readers and that's why we have published at least 25 books of young writers, including work by Mehedi Ullah, who I believe will enrich contemporary Bangla literature," said Arifur Rahman Naeem, owner of Oitijjhya Publication.
Arif said at least 250 writers had their debut through his publishing house since 2001, and this year Mehedi's romantic book, titled "Unomeyo Ushna Onorag" is seeing good sales.
Talking to The Daily Star, Mehedi said the book includes some stories on tragic breakups and their consequences. 
Mehedi won Gemcon Young Literary Award 2013 and is a teacher at Folklore department at the Jatiya Kabi Kazi Nazrul Islam University.  
Onnesha has published two novels titled "Bibiana" and "Hridoyer Dokhin Duar" written by Kingkor Ahsan and Abdullah Al Imran respectively. 
Kingkor said the word "Bibiana" refers to opulent life and his novel narrates various aspects of complexities in modern relationship.
Abdullah Al Imran, who is also known for investigative journalism at a private TV channel, said that everyone has a "Hridoyer Dokhin Duar" (door to the heart) and while someone can open that door, some cannot. 
Many wait throughout the year for the biggest book fair in the country to make their debut as writers.
"When I submitted the manuscript of my debut novel 'Shomeshwari' to Desh Publication, the publisher encouraged me immensely and launched my book at this year's fair," said Lubna Zerin Laboni, a student of marketing department at DU.
Depression and suicide are serious issues of our times, and the message of my novel is that life is beautiful, whatever the circumstance might be.
"Book fair creates a link between writers and publisher. Here, new writers get together almost every day and I'm still learning from senior writers," she added.
Meanwhile, Daily Star Books, the books wing of the daily, has published four new books at the fair this year. The books are: "Bangladesh Style of Citation of Legal Authorities" by Md Rizwanul Islam, Nauriin Ahmed and K Shamsuddin Mahmood; "Abul Mansur Ahmad-er Jibon Darshan o Srijon Bhubon" by Dr Md  Genghis Khan; "Bangali Musolman-er Buddhibrittik Bibhrom o Biswasheenota" by Syed Abul Maksud; and "Abul Mansur Ahmed-er Prashongikota" by Emran Mahfuz.