Ekushey Book Fair : Young readers thrilled to meet favourite writer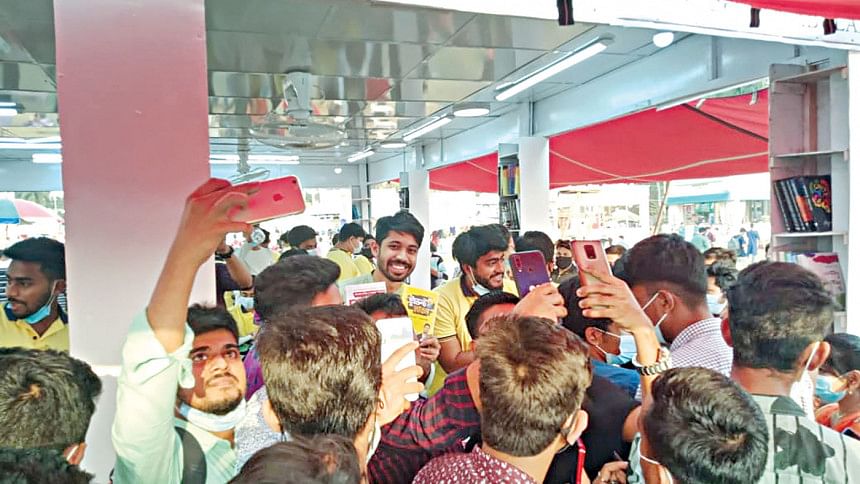 On the fifth day of the book fair, the crowd was a little relaxed at the Suhrawardy Udyan yesterday.
But there was an exception. Tamralipi was thronging with visitors.
The visitors were mostly young students, they were there to meet and cheer for their favourite author, as Ayman Sadiq was present at the stall yesterday. Awaiting his presence all day, the youth in attendance started to take autographs from him and selfies with him once he arrived.
On his first visit to this year's Boimela, Sadiq met them with equal enthusiasm, but cautioned everyone to maintain safe distanc due to the ongoing spike in coronavirus cases across the country.
Kefayet Ullah, a student of Sarkari Soheed Suhrawardy Colleege, was excited to get his autograph. "I never thought I will see him in person. I'm a huge fan, I always follow his videos. This is amazing for me," he was oozing with excitement.
Sisters, Maisha and Mou Akther, from Bir Sreshtha Noor Mohammad Public College, made their way through a thick crowd just for Sadiq's autograph.
"If we didn't get it, we would've felt guilty all day. He's like our favourite person," Maisha said, holding her copy of Never Stop Learning by Ayman Sadik.
Along wit autographs, Ayman Sadiq was busy answering his followers' questions, mostly advising them on queries related to life and education. He also asked those in attendance to read more and do the best they can with life.
"This years fair is different because of the need to maintain health guidelines. Despite the necessary, I miss the Boimela of old, when I'd get to walk around amid so many young readers," he told this correspondent.
"This year, my brother (Sadman) and I co-wrote a book named Digital Marketing Hacks, though it's yet to hit the shelves," he informed. "This year, I have taken a backseat from writing. Instead, I've transitioned into more of a behind-the-scenes guy for books published by 10 Minute School affiliates."
Popular 10 Minute School instructor Munzereen Shahid also came to the stall, to promote her own books and interact with the crowd. She came back to Dhaka from London recently, just to attend the fair. The crowd was ecstatic to meet one of their most beloved internet personalities.
"I'm so glad to be here. I hope my two books on English will help ward off the fear of English language and make learning it easier easily," she said, while signing autographs.
Both 'Sobar Jonno Vocabulary' and Ghore bose Spoken English' by Munzareen Shahid are available at Tamralipi.
Apart from Never Stop Learning, 'Student Hacks' and 'Communication Hacks', Sadiq's older publications, are selling like hot cake at Tamralipi.