Vendors are back, but their luck yet to arrive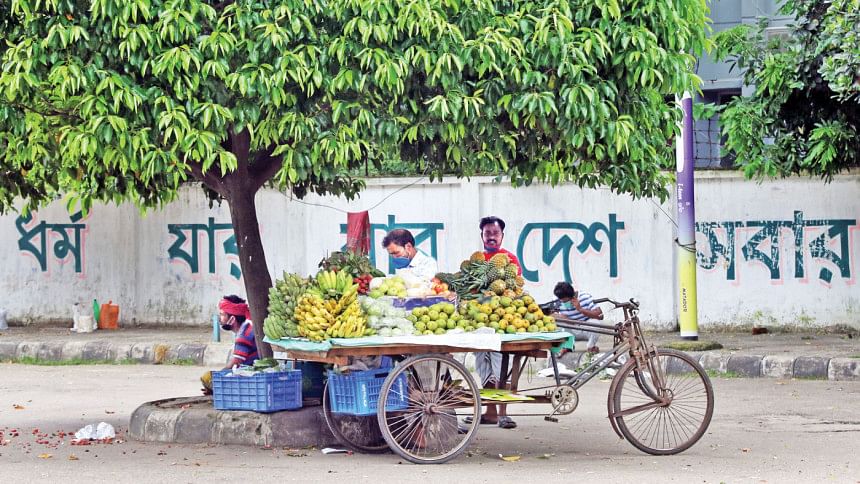 After six months of staying indoors due to the coronavirus fallout, 56-year-old Aleya Akter is back with her weighing machine on the pavement right across a Badda supermarket.
It has been a week since she restarted her old vocation. Pre-pandemic, she would start at 10am and work all the way till 8pm, weighing pedestrians in exchange of five taka per turn. She's been doing this for four years.
She is now selling surgical masks to earn a few more bucks, as business is yet to pick up after movement restrictions were relaxed across the capital.
"Before the shutdown, I would earn Tk 400-500 everyday with the weighing machine alone. Now, I can't pocket the same amount even after selling masks," Aleya told this correspondent recently.
"For the last six months, I have survived on relief. I've only decided to come out after everyone has started to do so," she said.
Aleya's misfortunes go much further back than the pandemic though. She first came to Dhaka after losing everything to river erosion in Barishal. She now lives with her daughter in Badda.
Asked if she's afraid of the virus, she said, "We need to eat first. If we get to do that, we may then have the option to think of fearing the virus."
Like Aleya, many street vendors have come back out on the streets. Those who had gone back to their villages are back to try their luck in the city anew, hoping to rejuvenate their financial capacity from the monetary loss of the last six months.
Ruhul Amin (45) has come back to Dhaka after a six-month stay at his native Noakhali. Just like the old days, he has started selling boiled eggs on his customised van at Karwan bazaar. Each of his eggs go for Tk 15.
"The last six months have been incredibly difficult for me and my family (of four). We survived on the little savings we had and by planting vegetable and rearing a few poultry" he said.
"I have to look after my family first, I can't just worry about the virus and do nohting." said Ruhul.
Another vendor, Jalal Mia (50), came back to Dhaka two weeks to restart selling peanuts at Shahbagh. For the last six months, he was in his village in Shariatpur, surviving on relief, vegetation and farming.
For those like Jalal, social distancing is a luxury. "I had to come back because otherwise I couldn't feed my family any longer. I came via a local bus, loaded with passengers, carrying the risk of infection."
Like others, his business isn't doing very well either. "My sales have almost halved from the usual Tk 1,000 before the pandemic. I can only hope that it picks up in coming weeks."
Although it's good for the vendors that they can finally be back at work, their presence on the streets of Dhaka are negatively affecting the city's aspirations to flatten the curve. All over the city, people can be seen buzzing around their makeshift stalls, without paying much heed to social distancing protocols.
"It is difficult to maintain social distancing in a crowded place like Dhaka," said Robin Rahman, a private job holder out on the streets to buy some clothes from a van.
"Public transportation services are back, vendors are occupying the streets as before. There's not much you can do, to be honest," Rahman said.