A time to look out for one another
Indigenous volunteers on a mission to help their communities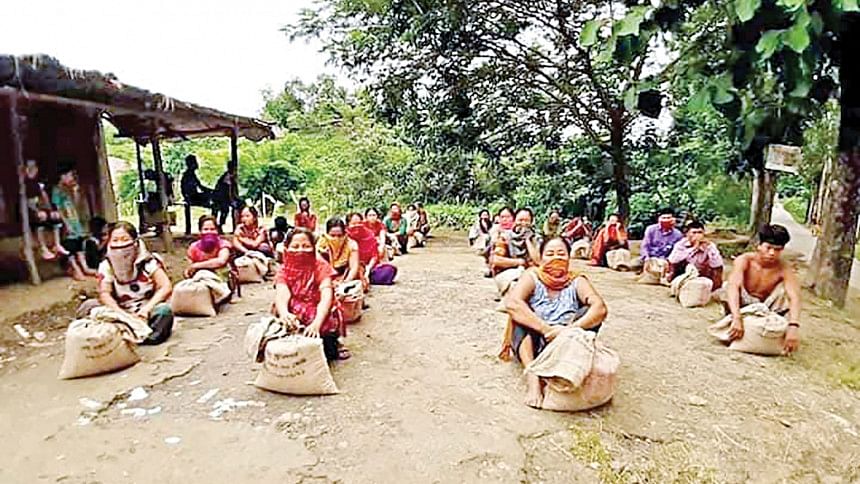 In the middle of March, when Covid-19 started sweeping across the nation, Mithun Raksam, a poet and publisher from the Garo community, got a heart-breaking phone call from an acquaintance. 
A Garo woman, who had lost her job at a beauty parlour, was on the other end. She told Mithun that not only her, but the pandemic took away jobs of her husband as well.
"The woman, a mother of two, said her family couldn't eat rice for a week and survived on only bread. Their area, Mirpur, was suddenly locked down, and they kept stretching their finances," Mithun said.
Seeing the helplessness of others, with what money he had, Mithun decided to jump into voluntary work to provide relief to such Garo families across the capital. He personally gave relief to 50 families and teamed up with other initiatives within the community.
Like him, there are several indigenous youths who came forward to help those in need, as a duty towards their community and humanity.
Alik Mree, a prominent member of an indigenous students' rights platform, along with other Garo youths started helping out in the crisis.
They distributed relief among 300 families in Tangail's Madhupur and 200 families in Mymensingh's Fulbaria upazila. For the initiative, they collected money from well-wishers.
Sharing his experience, Alik Mree said, "Garo people have never faced such a situation. They aren't used to taking relief, and at first, even refused to receive anything. Many didn't inform us about their financial condition out of shyness."
"Although volunteers' safety was a major concern, we tried to involve responsible individuals and provided masks and gloves. Many of them went to infected families to distribute relief, taking proper safety measures," he added.
Tarun Munda, a key member of a students' platform in Rajshahi, also volunteered, but due to lack of funding and support, his efforts could not reach many families.
"In the northern region, we basically work with marginalised communities, including Munda, Santal and Orao. We could only reach 150 families so far in Naogaon, Dinajpur, and Natore," Tarun said.
"There are families that still didn't get government support and neither could we reach them due to lack of finances," he said, describing their challenges.
Pramee Khisa, belonging to the Chakma community, is a second-year student at Dhaka University. She started working under the platform "Sabuj Kham" -- initiated on April 23 by Chakma, Marma and Tripura youths.
According to her, the platform's team visited several villages of three different districts -- Rangamati, Bandarban and Khagrachhari. So far, they have distributed food to 640 families, and provided sanitary napkins and soap to 150 women. Their funding was crowdsourced: many youths who could not join the fieldwork donated.
"When we went to a village of Rangamati, we saw lots of rotten papayas in a field. They couldn't sell those as the nearby bazaar was closed and movement was restricted," she said while describing the villagers' situation.
Aktar Uddin, country coordinator of United Nations Volunteers, Bangladesh, said, "Volunteering is ingrained in indigenous communities, especially in youths. During this pandemic, when people are suffering, this spirit prompted hundreds of indigenous youths to support their communities using innovative ways, despite the health risks."
"In most cases, these youngsters serve as first responders during a crisis. The current pandemic again proved how important youth volunteering is. Their contribution needs to be recognised to motivate them," he said.
Today is International Day of the World's Indigenous Peoples. According to UN, researchers have linked pandemics to environmental damage, and the knowledge these communities possess is invaluable to prevent such future events. With this year's theme "Covid-19 and indigenous peoples' resilience", the day aims to enlighten all about how essential such communities are for protecting the environment.