Streets of San Francisco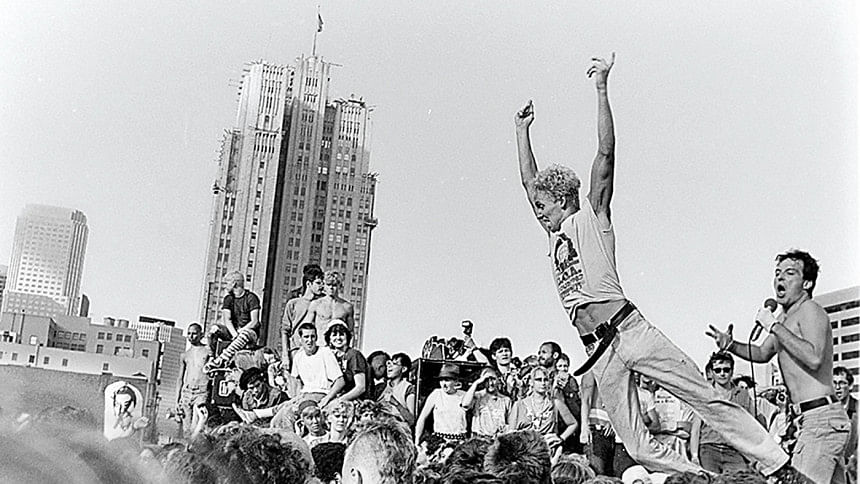 In 1983, upon completing my engineering education in the United States, I took a software engineering job in California's Silicon Valley. I immediately got myself a new five-speed Nissan Sentra that preferred going downhill rather than uphill but took me thirty miles on a gallon of petrol. Having gained freedom I had only dreamed of before, I spent my weekends exploring the region with my camera.
My interest in photography gravitated towards street photography and I quickly discovered that nearby San Francisco was a goldmine for that. The reason was simple. There was a different festival in the streets of San Francisco almost every month, organized by the city's ethnic and political groups. Mexicans, Japanese, Chinese and Italians all had their own festivals, colourful and exciting, with parades on the street, music, food and drinks and sparkling joie de vivre.
Of these, Cinco de Mayo (Fifth of May), a day to commemorate the Mexican Army's victory over French forces in Puebla in 1862, was the most colourful. Boys and men dressed in black cowboy suits complete with silver studs and large sombreros while and girls and women with elaborately coiffed hair wore long, flowing dresses. The Japanese Cherry Blossom Festival in Japantown was understated and refined, with elegant dance troupes, various Japanese performances and lots of kimonos. Chinese New Year's Day was raucously celebrated in Chinatown with ear-splitting fireworks and wall to wall people, often more tourists than locals. Columbus Day, celebrated in the North Beach neighbourhood, was all about hanging out in Italian cafes, champagne brunches al fresco and making merry. The only theme for the Delores Street Festival was to have a large street celebration.
The festivities attracted two distinct groups of participants. Those who marched in the parades dressed formally for the occasion and performed with disciplined grace. Before their turn came in the parade, they practised their moves and fine-tuned their appearance in the side streets. The second group was the audience. Many came dressed in costumes for the occasion and ready to celebrate. They helped turn these events into gigantic open-air fancy dress parties.
While these street festivals were cultural, I also photographed another type of street action in San Francisco: political protests. In those days, against the backdrop of the Cold War and the Reagan presidency, non-violent protests by liberals were common in many parts of America.
In 1984, an event in San Francisco opened my eyes to such protests. It was the Democratic Party's national convention in preparation for upcoming presidential elections.
While the politicians delivered speeches and held debates inside air-conditioned convention halls, streets outside were filled with people engaged in peaceful protests against American interference in Central America, Cold War arms build-up, the apartheid regime of South Africa, gay rights, need for more research on AIDS, and even Mrs. Gandhi's rule in India. A punk band called the Dead Kennedys played concerts where audience members climbed up to the stage and dived violently into the crowd. Individuals openly smoked marijuana – illegal at the time - from massive joints. Ideals clashed in passionate but civil debate between conservatives and liberals.
Today those events on the streets of San Francisco seem far away. They evoke a certain American innocence for me – an innocence that was lost in recent years.
facebook.com/ikabirphotographs or follow "ihtishamkabir" on Instagram.