A risky, stinking commute
No railing along Shahjadpur drainage canal; locals suffer from garbage odour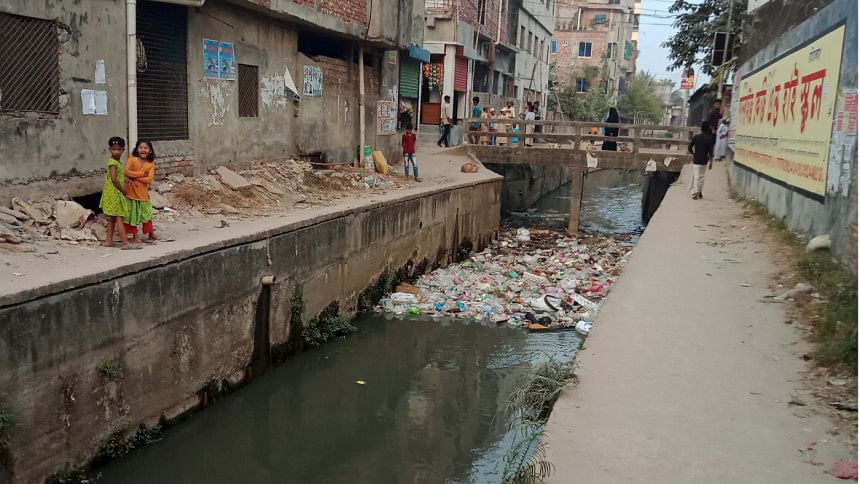 The walkway along the Shahjadpur canal that goes through in Baddda and Shahjadpur has become a risky commute for locals due to a lack of safety railings along it, leaving pedestrians -- especially children -- at a risk of falling in.
On top of that, there are no visible efforts from authorities to keep the drainage canal clean, causing blockage and foul smell. 
Dhaka Wasa built the drainage canal around 2009, to facilitate drainage of Gulshan and Badda areas, according to Wasa officials.
The canal goes through Shahjadpur, Bhatara, Hazipara, Padardia and then finally meets the Shutivola canal in Satarkul of Badda. It is around 16 feet in width, 14 feet in depth and two kilometres in length.   
As both sides of the canal saw a growing population and housing over the last decade, so has foot traffic on the five-feet walkway. However, with no railings erected on either side, accidents are not uncommon.
According to locals, there have been a number of instances of children falling into the canal while playing, including the death of a child couple of years ago. Besides, stray dogs also often slip and fall into the canal frequently, and locals have to rescue them.
Md Shahjahan has been running a grocery store beside the canal since 2003.
"I haven't seen any railing set up by the authorities concerned since the beginning of the drainage canal. The walkway is very small and it is obviously risky for children," said Shahjahan, whose store faces the canal. 
Towards the end of the canal, there are litters of plastic garbage hindering water flow and emitting a tough-to-tolerate stench. 
Saiful Islam and Fatema Begum own a three-storied building near the Padardia end of the canal. Concerned about their safety, they put up a railing in front of their main entrance by their own funding eight years back. 
"We have two schoolgoing grandchildren. Every day, I need to drop them to school walking by the narrow canalside. What if they fall off accidentally? Therefore, we set up the railing with our own cost," said Fatema, clearly annoyed at authorities' inaction.
"Living near the canal area, we have a mosquito problem. Also, the pungent odour that comes at times is unbearable. Recently, a cow corpse came drifting to the canal and it stayed for weeks; no one was there to remove it," she complained.   
The canal goes through newly-added DNCC wards, including wards 41 and 38.
Contacted, incumbent DNCC ward-41 councillor Shafiqul Islam said, "The canalside walkway railing is the responsibility of Dhaka Wasa. We have informed the matter to them, but to no avail."
Meanwhile, recently-elected councillor to the ward Abdul Matin said, "I am yet to take oath officially as a councillor. But when I was a chairman of the ward, I informed Wasa officials nearly three years back; they replied that they did not have any fund and the railing was not in their main design."
"This sidewalk is risky to anyone passing by. Particularly children are open to the risk of falling in it. A child died in the canal couple of years ago," he said, promising to inform Wasa again and take steps from the city corporation once he takes charge.  
On condition of anonymity, an executive engineer from the drainage (operations and maintenance) division-1 of Dhaka Wasa, said, "We did not have any plan for a railing when it was constructed. But as the child safety issues are coming up, we will set up a three-feet railing on both sides of the canal."
Asked when it may start, he said it all depends on funding, and hinted that it may not be anytime soon.
He also alleged that the locals have occupied space of the sidewalks while building their houses, adding that they often throw garbage in the canal, making it difficult for Wasa to maintain it.
"The city corporation also has some responsibilities; they are supposed to look after solid waste management such as plastic, which are responsible for waterlogging," the official said.