No new publication from Dhaka University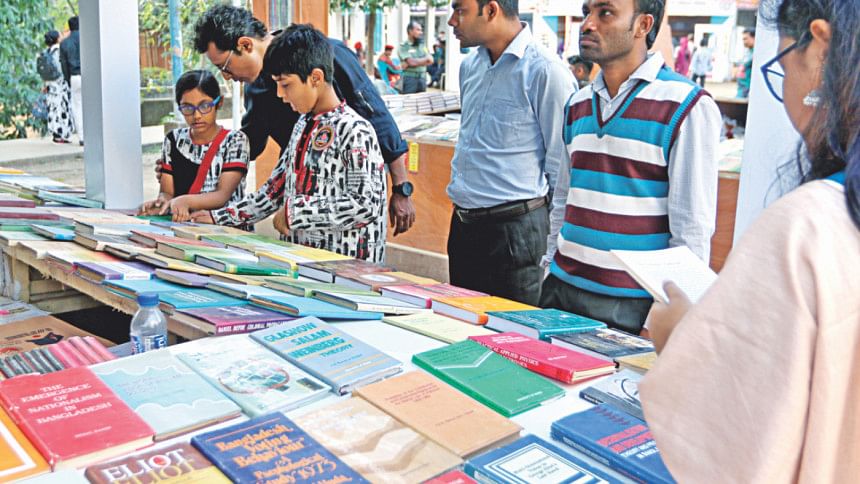 Despite its reputation as the highest echelon of education in the country, Dhaka University (DU) publication is yet to publish any new book at the month-long Ekushey book fair that ends tomorrow.   
Academics say the dismal scenario of publication indicates the waning of the university that was once prominent for being the hub of many renowned writers and researchers in the country.
According to Bangla Academy sources, a total of 185 new books arrived at the fair yesterday, raising the total number to 4,284 this year.
According to DU Publications Bureau, the university has published only 177 books in the last 98 years since its establishment in 1921.
The first published book was "The Construction of Reading Material for Teachers of Foreign Language" by Michel West in the year 1926 and the last one was "Mahasweta Devir Kothashahitye Adivasi Jibon" by Hosne Ara in December of 2018, said the DU Publication stall attendants at the fair. 
When asked by The Daily Star, they failed to provide any updated catalogue, as it was last updated in 2016. 
"This stall doesn't have much to offer, considering the lack of new books," said Minhaz Munna, a student of Economics department of DU. 
Prominent educationist Syed Anwar Hussain said the university administration lacks interest in this sector, and the poor state of affairs in publications is a reflection of that.
"Vice-chancellors in the last few years did not take any initiative to enrich the university publication," said Syed Anwar, a supernumerary professor of DU's History department.
He alleged that the university publication has a lengthy procedure for publishing a new title, and that is the reason why many writers lose interest to have their works published through it.
"If the university introduces standard facilities including print and royalty, they could draw attention of writers," Syed Anwar said.
Voboranjan Chakraborty, deputy director of DU Publications Bureau, said that they will soon formulate a proper guideline to address this issue.
Meanwhile, a good number of visitors defying rain and mud turned up at the fair -- at both Bangla Academy and Suhrawardy Udyan.
"A new book, titled 'Mukhosh Khule Probesh Korun' by Hirok Rana is seeing good sales at our stall," said Nafeesa Begum, publisher of Adee Prokashan.