Lofty promises but no manifesto yet
Most councillor candidates making verbal pledges
With election to the Dhaka city corporations around a week away, ward councillor candidates are campaigning in full swing. However, most of them do not have any specific vision to develop their wards, if elected.
While some are making promises to woo voters, others have been saying that they do not have any manifesto as their scope to work independently is very limited.
Once elected, they will convince the new mayor to resolve ward-based problems, they assured.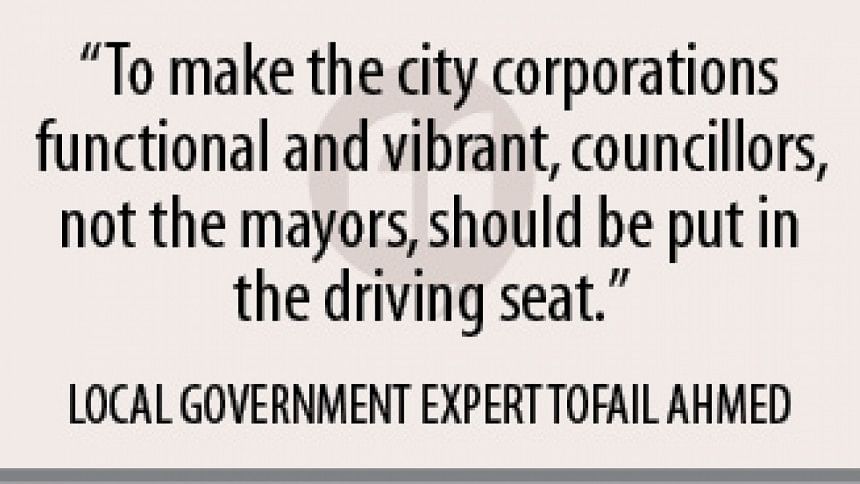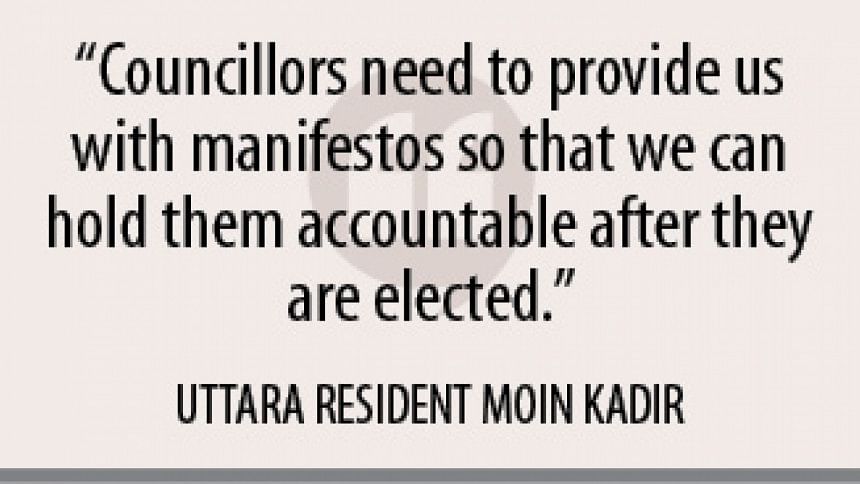 Experts, however, said ward councillors' work is limited to issuing birth and death certificates.
"In the existing system, a councillor has no executive power," local government expert Tofail Ahmed told The Daily Star yesterday. "To make the city corporations functional and vibrant, councillors, not the mayors, should be put in the driving seat," he said.
A parliamentary system will have to be introduced where the mayor will be an elected councillor and councillors will elect him from themselves, he said.
This newspaper spoke to at least 30 councillor aspirants from Awami League and BNP contesting in the DSCC and DNCC polls. Most of them did not have any manifesto.
But almost all of them promised to create a drug-free neighbourhood, repair or construct roads and footpaths, and solve drainage, sewerage and waterlogging problems of their wards.
Residents, however, were sceptical of the lofty promises.
"During elections, councillors always make pledges but the reality is quite different. We never see any implementation of those afterwards," said Anwar Hossain, a resident of Gendaria. "We want a councillor who'll truly work for the betterment of his or her ward," he added.
Moin Kadir, a resident in Uttara, said, "Seems like, councillors' are more interested in visiting a ward, waving at locals and asking for votes rather than giving us a written manifesto. They need to provide us with one so that we can hold them accountable after they are elected," said the private job holder. "They just want to win at any cost."
DSCC
Awami League's Mohammad Selim, a councillor aspirant (ward-42), said, "I may not have any manifesto, but I'm still making pledges to voters." Selim has been a councillor for around 18 years.
BNP councillor candidate (ward-44) MA Sahed Montu pledged to set up a gymnasium, library and music school in his area. Montu also promised to construct a multi-storey cleaners' colony in Sutrapur.
On the other hand, AL's Mohammad Nizam Uddin (ward-44) said he will work for solving mosquito-related problems and strengthen mosquito control activities.
He also promised to create employment opportunities for youths and set up a training centre for women.
AL's Abul Kalam Azad Mintu (ward-40) aspired to create a social arbitration system against stalking to ensure a safe environment for women. He also promised WiFi facilities and fire hydrants at different points of the ward.
DNCC
The verbal promises made by candidates in DNCC are quite similar.
Awami League candidate Kadam Ali Matabbar (ward-2 under Pallabi area) is prioritising safe roads, drives against mosquito and scholarships for poor students. But he did have a written manifesto.
"My ward has 1.25 lakh voters. The area needs attention from the city corporation. If I can maintain a good connection with the mayor and inform him about our problems properly then it is possible to develop the area," he said.
Meanwhile, 18 new wards were added to DNCC through a government gazette in 2017. These wards (37-54) got new councillors last year and they had little time to play their roles. Some of them are contesting with their previous manifestos.     
Awami League's Nazrul Islam Dhali is the incumbent councillor of ward-40 in Bhatara. It is the second time he is contesting for the post. "I could not fulfil all the pledges I made in last term's manifesto due to a budget crisis. So, I am using that this year with a pledge to implement those."
His priorities are fixing sewerage line, constructing roads, creating playground and community centres. On the other hand, AL's Abdul Matin (ward-41) has no written manifesto.    
"When Badda was first included in 2017, I submitted my plan to DNCC to develop this ward. Therefore, I did not prepare any written manifesto this time," he said, adding that his priorities are waste management, playground, community and health care centres.
AL's Sariful Islam Bhuiya (ward-43 under Khilkhet), Joynal Abedin (ward-45 under Uttarkhan), Saidur Rahman Sarker (ward-46 under Uttarkhan) and AKM Masuduzamman (ward-48 under Dakkhinkhan) have also made similar verbal pledges.
While some AL candidates did have written manifestos, most BNP candidates did not.
Nobi Hossain (ward-41 under Badda) said he will provide one soon.
Asked, BNP's Akhter Hossain (ward 43 under Khilkhet) added, "We may provide a written manifesto before the election day."
Anwar Hossain (ward-44 under Uttarkhan) also did not have any written manifesto and when asked why, he evaded the question.