Jurain residents demand safe water supply
Residents of Jurain area in the capital Dhaka staged a demonstration this morning demanding supply of safe and drinkable water by Wasa.
They also marched a road from Jurain to Shanir Akhra for nearly two hours this morning.
The demonstrators called upon the Wasa, a state-run water supply agency, to provide them safe water so that they can drink the water directly from taps.
"We don't want to have impure and contaminated water from our tap anymore and want to avoid the hassle of boiling the water for purification. Wasa has to ensure safe and drinkable water for consumers," said Mizanur Rahman, a resident in the area.
"Water supplied by the Wasa is found unsafe and many people are becoming ill, drinking the contaminated water every day," he added.
Dhaka Wasa yesterday revealed that its water is polluted in 57 city areas because of broken-down supply lines.
WHAT DID THE REPORT SAY
The water supplier made the admission in a report submitted before the High Court.
The local government and rural development ministry submitted the report on behalf of WASA, as per the court's order delivered on Monday.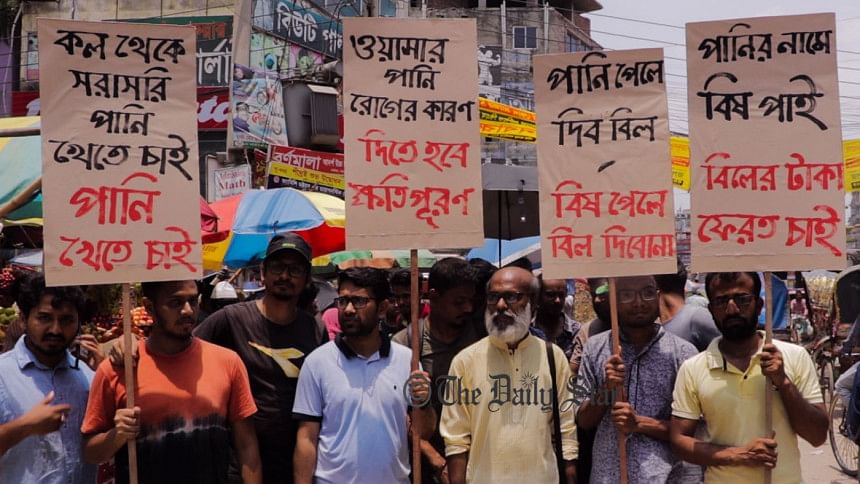 The report, based on consumers' allegations, said the WASA would test the water of those areas at the laboratories of Dhaka University, Buet, and icddr,b.
The development comes less than a month after Wasa Managing Director Taqsem A Khan claimed that WASA water "is 100 percent pure," while also admitting that sometimes he himself boils the water at his home.
WASA has since been under pressure from the public, the media and the High Court. 
The city dwellers have long complained that the worn-out WASA supply lines are responsible for rampant water contamination in different areas.