Dev without democracy not sustainable
Speakers tell a roundtable in city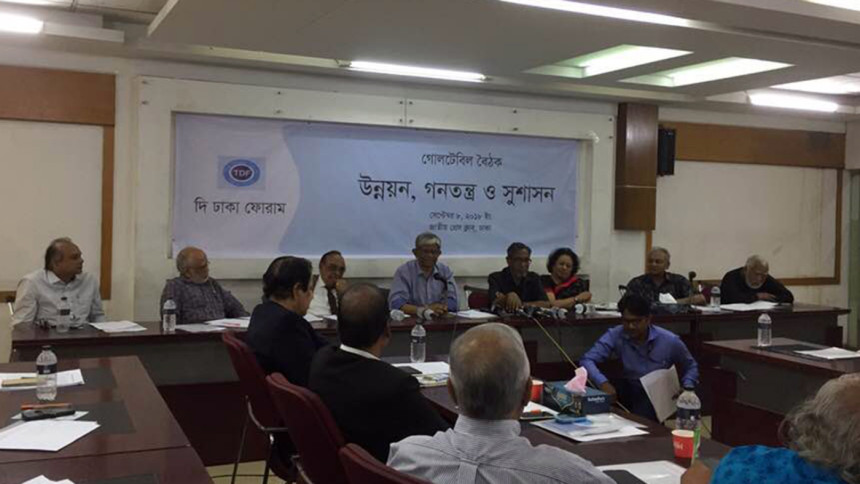 Lack of democracy and good governance was apparent in the country and it posed a challenge to achieving sustainable development, experts said at a discussion yesterday.
The country's economic growth was not achieved based on the principle of equality as the rich-poor gap increased in recent years, they observed.
The Dhaka Forum (TDF), a non-political platform of cross-section citizens, organised the roundtable on "Development, Democracy and Good Governance" at the Jatiya Press Club.
Speakers, including economists, former bureaucrats, political scientists and good-governance campaigners, at the programme stressed the need for establishing rule of law in the country and making the government institutions accountable to achieve prosperity.
In his keynote speech, former Bangladesh Bank governor Salehuddin Ahmed said it was not right to consider development and democracy separately as they were interrelated.
Development in some countries, where democracy was absent, had been brought to the fore at times as examples, he said.
Such development was neither sustainable nor equality-based, he said, adding that only materialism and consumerism flourished in those countries rather than values and individual freedom.
"We don't want Bangladesh to take a similar path."
Salehuddin, also the president of TDF, said although there is no political tension in the country now, uncertainty is there.
Whichever political government takes over power, people don't see good governance, he said.
"This lack of good governance meant absence of transparency and accountability… if someone committed an offence, he was not punished."
The economist also said the country's banking sector has been facing multiple problems for long and its biggest problem now is lack of good governance.
There are international standard laws and rules for the sector, but those are not being implemented properly, Salehuddin added.
He said the government must ensure democracy and good governance and bring back discipline and dynamism in the financial sector to help sustainable and equality-based development.
"Democracy and development must go hand in hand. If you only ensure development and overlook democracy, you can't establish a sustainable, equality-based and meaningful society."
Former cabinet secretary Ali Imam Majumdar said income disparity has worsened due to corruption. Besides, corruption grew within institutions due to a culture of impunity.
Pointing at the lack of quality in the evening courses of some public universities, he said this happened due to "governance failure" of the state's monitoring and regulatory bodies.
It would not have happened if the University Grants Commission and other related government bodies looked into the matter seriously, he said.
Political scientist Prof Dilara Choudhury said politicians would formulate policies and the citizen's role was to create pressure on them by holding them accountable for their activities.
"Unfortunately, the people don't speak out as the government is repressive."
She said civil society members should also take the responsibility of making the government accountable.
About the upcoming parliamentary polls, former caretaker government adviser M Hafizuddin Khan said it was the Election Commission's constitutional responsibility to hold free and fair elections.
He said the EC would have to "face punishment" if it failed to deliver on its responsibility.
A movement should be waged demanding free and fair polls as the national polls are only months away, he observed.
Former caretaker government adviser Mainul Hosein said the country should be ruled based on "people's constitution".
He also said party politics and partisanship would prove meaningless if the political parties failed to make the election process free and fair.
Mainul alleged that the police was made controversial as the force was used in doing politics.
Senior journalist Amanullah Kabir said decentralisation of the administration was necessary to ensure development.
The country's politics has been "polluted" since the businessmen got involved in it, he added.