Here's hoping next year's book fair is Covid-19 free
Curtains on curtailed Ekushey Boi Mela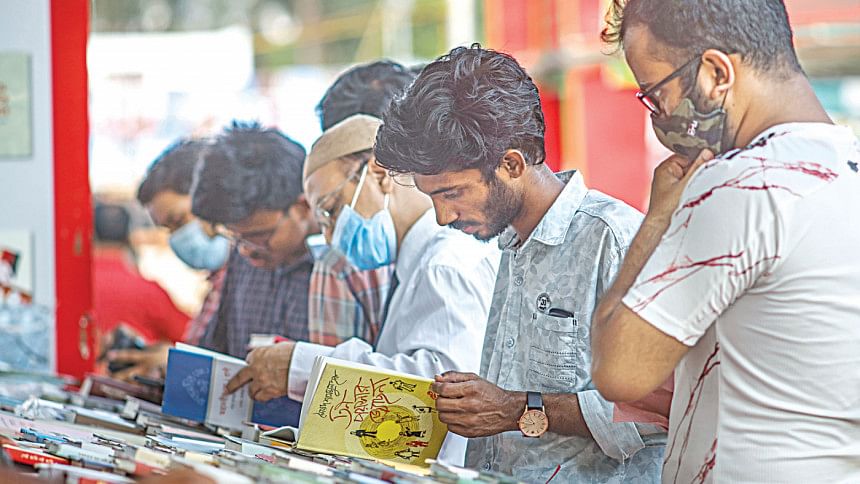 Yesterday was the last day of this year's Ekushey Boimela. Marked by a delayed start and a lockdown announcement midway, the book fair -- originally scheduled to end on April 14 -- ended two days earlier due to the surge in Covid-19 cases across the country.
Other than the delayed start -- this year's fair started on March 18 compared to its usual February runtime, and -- there were some more exceptions to this year's iteration amid the pandemic. It was held across more space for the sake of social distancing, children's hour was suspended, and opening hours saw a change to the format.
This year's opening and closing time were originally set for 3pm to 8pm except for holidays. But it was then changed to 12pm to 5pm as the lockdown started from April 5.
All of this combined to lend a rather disappointing tone to the boimela. Visitors were always low in numbers, first due to the delayed start and then due to the lockdown and curtailed visiting hours, and publishers struggled to sell enough to get their investments back.
"We couldn't even make 10 percent of last year's sales," Shabdoshoily Publisher Iftekhar Amin told this correspondent yesterday.
Criticising the frequent timing changes and other abrupt decisions by Bangla Academy, he said, "The timing of the book fair changed so many times that the readers got confused. As a result, many of them didn't even bother to come."
"This year's Boi Mela was hugely disappointing. I couldn't even recover the pavilion set-up cost," said Monirul Haque of Anannya Publishers.
"I still believe it should have been held in February when things were looking a bit more stable. This is really frustrating," said Monirul, also the executive director of Academic and Creative Publishers' Association of Bangladesh.
Another thing this year's fair dearly missed is the writers' presence. The fair is usually a place for writers to meet with their readers, a place for exchanging views with each other. But this was difficult due to social distancing requirements. Moreover, many writers living abroad couldn't come home to be there for their book's publication.
Poet Piash Mazid said, "I could only get very little interaction with the readers. The congregation of writers and readers that we are used to were sorely missed this year."
Mithun Raksham, writer and publisher of Thokbirim, said, "Every year, indigenous researchers and literary enthusiasts come here all the way from Rangamati and Mymensingh to buy from my stall. But due to the lockdown, almost none of them could come this year."
Most visitors were also frustrated. From the delayed start to the frequent timing changes, they had a lot to complain about when this correspondent spoke to them.
"This year's fair felt underwhelming. It was short, and there was no festive feel to it," said regular Boi Mela visitor Suraiya Jasmine. "Besides, the timing was odd -- noon is no time to visit a book fair in summer."
However, some also praised the initiative.
Shahadat Apurbo, a private job holder, said, "Despite everything, the book fair was held with safety protocols in place. We were able to visit the fair, buy some books and spend time with family and friends. Hopefully, things will change for the better and the next year's Boi Mela will be bigger, better and free of Covid-19."
Contacted, Bangla Academy Director General Habibullah Siraji said, "Everything is different due to the pandemic. But through all the constraints, we did manage to organise the fair."
"There were expectations from many sides, and we tried our best to address them. We gave it our 100 percent," he said.
This year, 834 units of space were allocated to 540 publishing houses and organisations to set up their stalls and pavilions.
The authorities allotted 154 units on Bangla Academy premises to 107 organisations, and 680 units in Suhrawardy Udyan to 433 organisations.
Considering the Covid-19 social-distancing requirements, the land earmarked for this year's fair was expanded to 1,500,000 square feet from the usual 900,000 square feet.
A total of 2,640 new titles hit the fair this year with 64 of them on the last day, according to Bangla Academy.