Middlemen in Labour Migration
Govt to bring them under legal framework
Says formally recognising informal service providers will help check fraudulence, ensure accountability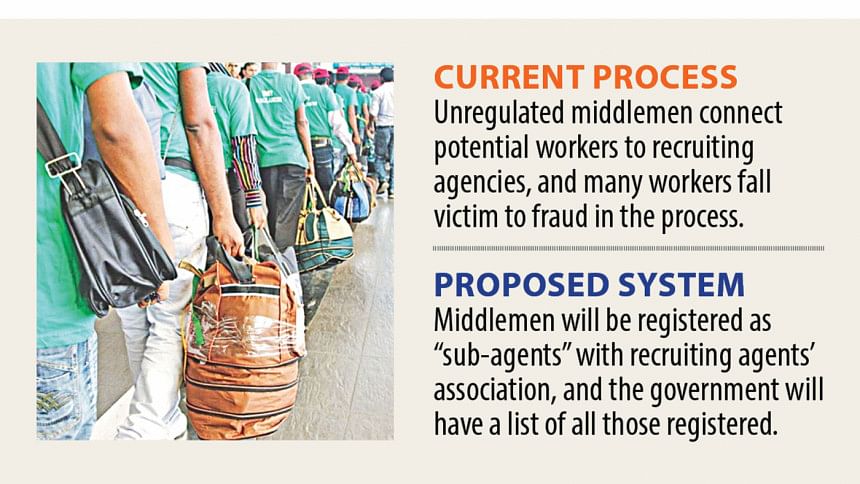 The government is going to make informal grassroots service providers in labour migration accountable by formally recognising them under the relevant law with the aim to end fraudulence in the sector.
The expatriates' welfare and overseas employment ministry is amending the Overseas Employment and Migrant Act-2013 and has already formulated a draft of the proposed law, setting up a definition of such service providers widely known as "sub-agents" or "middlemen".
Migrant rights groups and sector insiders welcomed the move. However, they said the government needs to find a viable option to hold informal service providers accountable.
Once the proposed Overseas Employment and Migrant (Amendment) Act-2021 is passed, the middlemen will formally be identified as "sub-agents" or "representatives" working under licensed recruiting agents, irrespective of being paid by the agents.
"…for all migration-related activities of the appointed sub-agent or representative, both related recruiting agent and sub-agent will be responsible collectively and separately," reads a sub-clause of the proposed law.
The ministry recently uploaded a draft copy of the proposed law on its website and sought stakeholders' opinion. "We are considering modernising the 2013 Act," said Shahidul Alam, additional secretary of expatriates' welfare ministry.
In Bangladesh, most recruiting agents are based in Dhaka whereas workers are based in rural areas. Hence middlemen are needed to link the two parties, explained an official of the ministry, seeking anonymity.
"On the other hand, when a worker is deceived or lured or additional money is taken from them, they can seldom tell the name of the person responsible. As a result, it becomes difficult to bring the culprit to book," said the ministry official.
The main goal here is to make these culprits accountable, he said.
Despite the lack of legal recognition, informal service providers or middlemen are an integral part of the labour migration cycle.
They provide at least a dozen types of services to migrant workers -- from assisting in passport processing to accompanying workers to the airport, according to studies by various migrant rights groups.
This is due to a major gap that exists in the government's pre-departure services to migrants, said a joint report of IOM and ILO.
As per the proposed law, the persons appointed as sub-agent or representative have to be registered with recruiting agents' association, and the association will keep a list of all registered sub-agents or representatives, an updated copy of which has to be submitted to the government each year.
The proposed law says a recruiting agent will be able to appoint a maximum of 20 sub-agents. But the government will decide on a number by issuing directives from time to time. Each sub-agent can only register under one recruiting agent at a time.
Prof Tasneem Siddiqui, founding chair of Refugee and Migratory Movements Research Unit (RMMRU), said, "Following a longstanding demand of migrant rights groups, the prime minister in 2019 directed to register the sub-agents or middlemen."
"However, the government's registration plan is not viable."
There are thousands of villages in 64 districts, so only 20 sub-agents for a recruiting agency might not be adequate, she added. "This may lead to the creation of 'sub-agents' of the sub-agents," said Prof Tasneem.
She said they have already suggested a system under which Baira, the apex trade body of recruiting agents, will register sub-agents across the country.
The registration process will follow criteria set by the Bureau of Manpower, Employment and Training, she recommended.
According to the joint report of IOM and ILO, migrants depend on informal agents more than authorised recruiters and state institutions because of their proximity with the former and lack of awareness.
Informal intermediaries and migrants' social networks now procure more than 50 percent of visas and other migration services, including passport and smart card collection, online registration and medical checkups, said the 2018 report by IOM and ILO.
A World Bank report published in March last year says Bangladeshi labour workers spent on average Tk 2.78 lakh, or more than $3,000, for migration. The highest government-fixed migration cost is Tk 1.66 lakh for jobs in Russia, followed by Tk 1.65 lakh for Saudi Arabia.
An RMMRU survey of 5,407 households in the high migration-prone district Tangail in 2017 found 19 percent people could not make it for overseas jobs despite paying Tk 1.95 lakh each on average.