City caught off-guard by gas crisis
No prior notice as some 6-7 lakh consumers suffer in many areas; normalcy expected to return today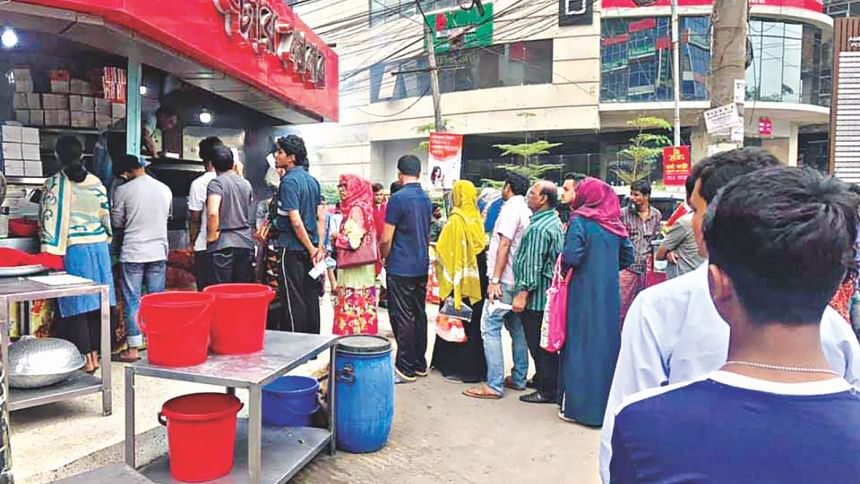 Gas supply to tens of thousands of households, factories and other establishments in the capital and its adjoining areas came to a complete or partial halt in the morning yesterday because of a technical glitch in the gas network, inflicting untold sufferings on the city dwellers.
A valve went out of order at the Ashulia gas station of the state-run Gas Transmission Company Ltd (GTCL), resulting the disruption.
Clients of Titas Gas Transmission and Distribution Company Ltd in Ashulia, Savar, Aminbazar, Gabtoli, Mirpur, Paikpara, Pirerbagh, Kalyanpur, Shyamoli, Ring Road, Mansurabad, Kadirabad, Mohammadpur, Lalmatia, Dhanmondi, Azimpur and Hazaribagh woke up to the sudden disruption, as there was no prior announcement from the state-run utility company.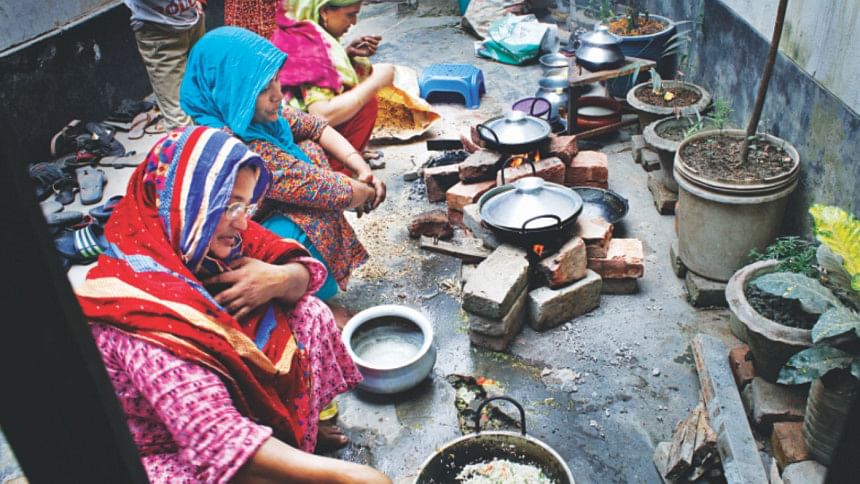 Some 20 percent clients of Titas Gas in Dhaka and its adjoining areas were affected, said M Kamruzzaman Khan, director of operations at Titas Gas.
"We could not notify the customers about it beforehand because it took us past midnight on Friday to make preparations for the repair work," said Kamruzzaman. "We communicated with the customers on Saturday morning."
However, an official of Titas Gas said they were supposed to issue an alert message on Friday night but they somehow forgot it.
The GTCL, which carries natural gas to the national grid, is working to fix the problem by replacing the valve.
"The gas supply will return to normalcy from 8:00am Sunday [today]," he added. 
Titas Gas used TV scrolls and text messages to notify the customers about the disruption. 
A mobile message from Titas sent out in the morning said, "Gas transmission from the central gas supply plants in Ashulia and Aminbazar to Titas system will remain halted for 24 hours from 8:00am [Saturday]."
As a result, gas supply either may be disrupted or pressure will be low in Ashulia, Savar, Aminbazar, Gabtoli, Mirpur, Paikpara, Pirerbagh, Kalyanpur, Shyamoli, Ring Road, Mansurabad, Kadirabad, Mohammadpur, Lalmatia, Dhanmondi, Azimpur and Hazaribagh, the SMS said.
Around 10:30pm on Friday, the GTCL informed Titas Gas that an emergency maintenance was required in a transmission line and it would take 24 hours to complete the task. And it took the two authorities until 2:00am to make the final decision on the maintenance.
The GTCL finally started the mending job at 8:00am yesterday, said Golam Mostafa Khan, public relations officer of Titas Gas.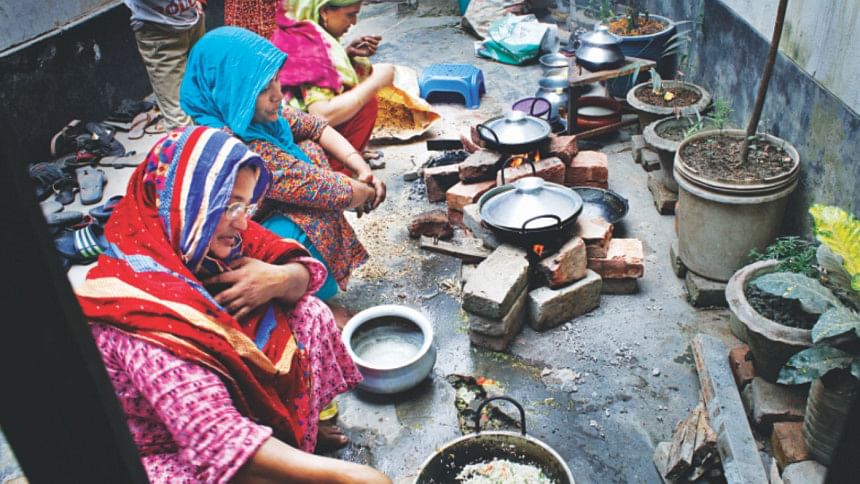 Residents said the authorities cut off the gas supply without any prior notice, and so they did not know about the disruption for such a long time.
Murad Hossain, a doctor, said, "We found out in the morning that there is no gas supply. It would have been better if we were informed earlier."
"Is it too much to ask for a prior notice?" Tania Khondoker, a homemaker in Mohammadpur, told The Daily Star.     
Mahdi Hasan, a resident of Dhaka's West Rajabazar area, said there was no gas at his house since 10:30am when he last checked.
"We have not heard any announcement prior to the shutdown in our area. The sudden disruption of gas supply for 24 hours is uncalled for and will result in mass suffering."
Residents of Talbagh area of Savar, on the outskirts of Dhaka, told our local correspondent that there was no gas supply since yesterday morning.
Siddiqur Rahman, president of the Bangladesh Garment Manufacturers and Exporters Association, said production at the apparel factories located in the affected areas was hampered but nobody complained.
People were forced to turn to restaurants and online delivery system for food.
Sayed Shakil Islam, senior marketing executive of Foodpanda, a popular food supply delivery platform in Dhaka, said its order from Dhanmondi and Mohammadpur almost doubled yesterday compared with any normal day.
Quamruzzaman said that it was difficult to say the exact number of affected customers readily, but it may be close to six-seven lakh.
A Titas Gas call centre official put the number at eight-nine lakh.
Until middle of last year, Titas Gas had 27.64 lakh residential customers, according to its website.
Quamruzzaman said not all customers had been equally affected, as only two of the 11 entry points used to supply gas were shut because of the maintenance work.
Clients located at the end of a distribution line and populous areas have been affected more. Users in the parts of the network where there were more stocks have been less affected.
The northern, southern and eastern parts of the gas network were unaffected, said the senior official.
Nasrul Hamid, state minister for power and energy, has requested the affected people and users to keep patience, said Mir Mohammad Aslam Uddin, senior information officer of the ministry. 
Aslam said a prior notice could not be given as it was an accident.
Ghulam Rahman, president of the Consumers Association of Bangladesh, said if the glitch had been the result of an accident,       then it might be viewed with     flexibility.
"But the supply should return to normalcy as soon as possible. Also, an alternative arrangement should be put in place, so that supply remains unaffected if something goes wrong," he said.