Reinstate 30pc FF quota in govt service
Protesters ask govt; block Shahbagh for third day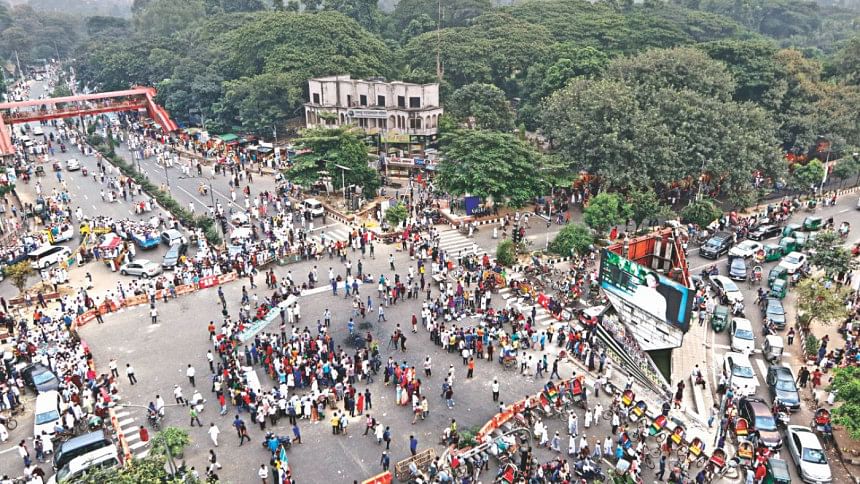 Protesters demanding reinstatement of freedom fighters' 30 percent quota in class-I and class-II government jobs continued their demonstration in the city's Shahbagh for the third straight day yesterday.
As per their previous announcement, about 100 demonstrators, including people aged above 40, blocked the Shahbagh intersection around 3:00pm, disrupting traffic in and around the area on the weekend.
Under the banner of newly formed platform "Muktijuddho Moncho", the protesters placed barriers at the intersection and sat on the streets chanting slogans.
They started the protest in the afternoon to comply with a request from Home Minister Asaduzzaman Khan to consider any possible suffering of medical college admission seekers.
Meanwhile, a group of physically challenged people staged another demonstration at the same place yesterday morning, protesting the scrapping of the quota system. They demanded keeping 5 percent quota for them in class-I and class-II government jobs, which was 1 percent before the abolishment of the quota.
Talking to The Daily Star, Aminul Islam Bulbul, one of the organisers of the protest, said ending the quota system was an "insult" to freedom fighters.
"The agenda of the anti-liberation forces has been implemented through the decision. We want this quota to be reinstated and we would not leave the street until our demand is met."
The agitation caused tailbacks in many areas in the city. Vehicles, heading for Science Lab, Farmgate and Motijheel, were seen changing their routes, causing suffering to commuters.
Protesters said they would not block the Shahbagh intersection before noon today as a convocation of Dhaka University would be held in the morning.
On Thursday, the government issued a circular abolishing the quota system for class-I and class-II jobs in civil service.
ANOTHER GROUP STAGE DEMO
Around 50 physically challenged people, under the banner of "Bangladesh Pratibandhi Shikkharthi Oikya Parishad", staged a sit-in on Shahbagh-Science Lab road, a few yards away from the blockade by Mutijuddho Moncho.
They announced a seven-point demand, including reservation of 5 percent quota for class-I and class-II jobs, and 10 percent quota for class-III and class-IV jobs.
The protesters said they would stage demonstrations at the same spot today.
About 56 percent government jobs had been reserved for candidates from various quotas. Of this, 30 percent were reserved for freedom fighters' children and grandchildren, 10 percent for women, 10 percent for people from underdeveloped districts, five percent for members of indigenous communities and one percent for physically challenged people.
The quota system was introduced through an executive order in 1972 and had been amended several times since. From 1972 to 1976, 20 percent of candidates were recruited on merit.
Merit-based recruitment was increased to 40 percent in 1976 which continued until 1985 when the percentage of merit-based recruitment was upped to 45 percent.