Attorney general to give expert opinion on quota reform soon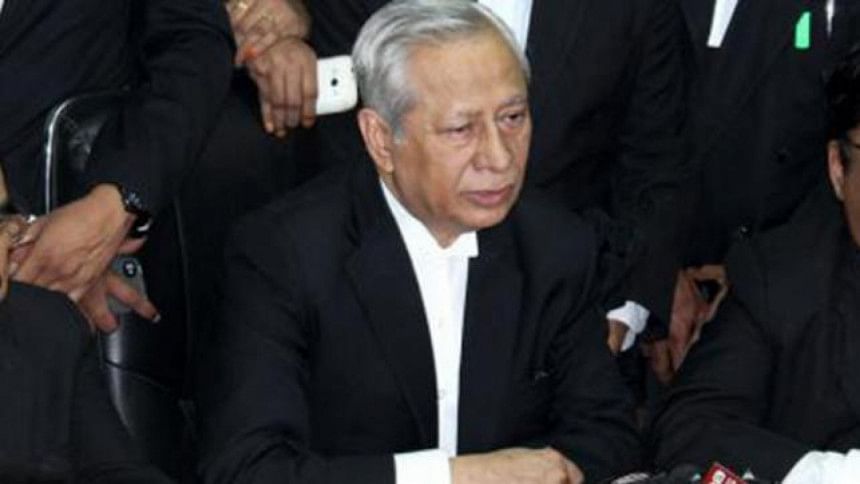 Attorney General Mahbubey Alam will give expert opinion about the quota for freedom fighters' children and grandchildren in the civil service to the government by Monday.
"I have received a letter from the committee formed by the government to evaluate the quota system three or four days back. In the letter, the committee sought my opinion about the quota [for freedom fighters' children and grandchildren] in the civil service. I will give my opinion to the committee by Monday," the attorney general told The Daily Star yesterday.
Mahbuey Alam refused to disclose his opinion yesterday, saying he would speak about the issue after sending the opinion to the evaluation committee concerned.
Contacted, Supreme Court Registrar General Dr Md Zakir told this newspaper that the government has not yet sent any letter to the Supreme Court till yesterday for its opinion about the quota system in the public service.
Cabinet Secretary M Shafiul Alam, who leads the seven-member committee formed to evaluate the quota system, on August 12 told reporters that the panel would seek the SC's opinion about the 30 percent quota for freedom fighters' children and grandchildren.
The evaluation committee suggested that almost all quotas in civil service should be abolished, and merit-based recruitment should be prioritised. In a verdict in 2015, the Appellate Division of the SC said, "The High Court Division observed that the reservation of 30 percent quota for the children of freedom fighters shall be followed strictly."
A large number of youths took to the streets in Shahbagh and a number of highways on April 8, demanding quota reform. After the demonstrations spiraled nationwide, Prime Minister Sheikh Hasina on April 11 spoke at parliament about scrapping the quota system, prompting students to suspend the movement.
Fresh demonstrations began in late April demanding publishing of a gazette notification, and continued across the country, including boycotting of classes and exams at educational institutions. A committee was formed by the prime minister on June 26 to review the quota system and its reformation.
On June 30 and July 1, BCL activists attacked the protesters at Dhaka University and Rajshahi University, leaving a number of students injured. Law enforcers in the coming days arrested and remanded a number of leaders of the movement, all of who are still in jail or remand.