'BCL' assaults continue
Quota movement leader sued under ICT act, arrested by police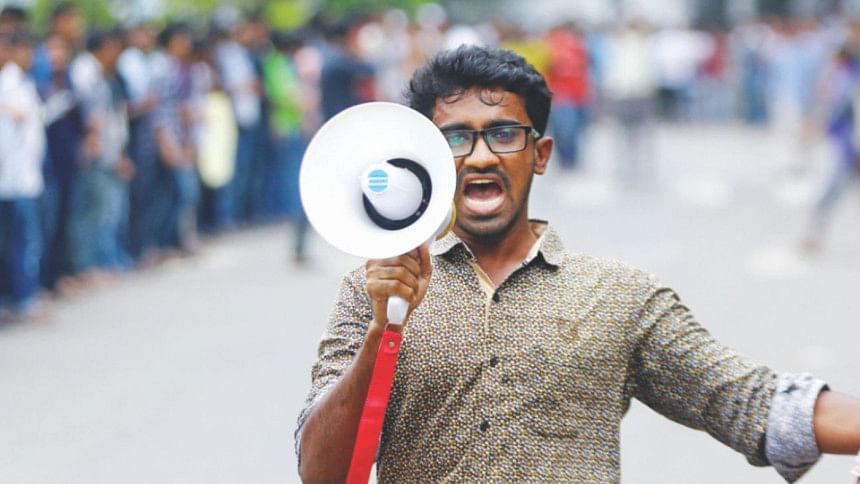 Students demanding civil service quota reforms came under attacks in Dhaka and Rajshahi allegedly by BCL men yesterday while a leader of the platform spearheading their movement was arrested. 
At least 10 Rajshahi University students suffered injuries in attacks when they were trying to form human chains on the campus in the morning protesting Saturday's assault on quota demonstrators at Dhaka University.
In the capital, four quota protesters were beaten up in front of the National Museum at Shahbagh yesterday afternoon.
BCL men also assaulted Mir Lokman, founding president of DU Mime Action, who has staged more than four hundred mime shows in the country and overseas.
Lokman alleged that Jagannath Hall unit BCL President Sanjit Chandra Das along with some central leaders of the organisation beat him up in front of DU Central Library for writing a Facebook post protesting Saturday's incident.
Sanjit Chandra Das denied the accusation and said Lokman was just "questioned" for writing "inappropriate things" about BCL. 
Meanwhile, detectives arrested Muhammad Rashed Khan, joint convener of Bangladesh Sadharan Chhatra Adhikar Sangrakkhan Parishad, in the capital's Bhasantek area around 12:30pm.
Rashed was shown arrested in a case under controversial Section 57 of ICT Act.
The case statement reads that Rashed went live in Facebook on June 27 and made "derogatory remarks" about the prime minister. Besides, he had been "spreading misleading information to create chaos on the university campus".
Al-Nahian Khan Joy, law affairs secretary of Bangladesh Chhatra League, filed the case with Shahbagh Police Station yesterday morning.
Condemning the incidents, leaders of the platform alleged that attackers are swooping on quota reform leaders wherever found.
Lutfun Nahar Luma, a joint convener of the platform, at a media briefing in the capital's Paribagh alleged that many protesters and their family members were being threatened.
She said they held the briefing at Paribagh after "failing to enter the DU campus".
Demanding arrest of the attackers and release of their leader, Luma announced that the platform will stage demonstrations across the country today.
She further said it has been two and a half months since Prime Minister Sheikh Hasina announced in parliament the decision to abolish the quota system, but the gazette notification is yet to be published.
"We were assured on several occasions of the issuance of the gazette but they did not keep their words. We want the gazette soon -- that's our only demand to the prime minister.
"We won't take to the streets tomorrow if the gazette comes today."
CONDEMNATION
Also yesterday, rights body Ain o Salish Kendra strongly condemned Saturday's attack on quota reformists at DU and arrest of Rashed.
In a statement, it expressed concerns over the failure of university authorities to take effective measure to control the situation.
The rights body said although BCL denied its involvement in the attacks, a number of leaders and activists of the pro-government student body were identified in the photographs of the incident.
It demanded that the attackers be identified and legal and administrative actions be taken.
In separate statements, Gono Forum and Greater Chittagong Hill Tracts Hill Students' Council also condemned the attacks and demanded punishment of the perpetrators. 
On Saturday, seven members of the quota platform, including its joint convener Nurul Haque Nur, were beaten by alleged BCL activists in front of the DU Central Library.
However, the pro-government student organisation denied its involvement in the incident.
The incident took place when the protesters were about to hold a press briefing to announce their next course of action as three months have passed since Prime Minister Sheikh Hasina declared removal of the quota system.
After the government's failure to issue a gazette notification on the PM's announcement, the quota reform platform started an indefinite boycott of classes and examinations at all universities and colleges on May 14.
They also issued an ultimatum for the publication of the notification by May 13.
On May 21, quota reform leaders postponed their decision of boycotting examinations considering that it was the month of Ramadan and the strike might cause session jams.
However, on June 26, the PM suggested continuation of the existing freedom fighter quota in civil service.
At present, 56 percent of government jobs are reserved for candidates under various quotas and the remaining 44 percent for applications on the merit list.
Of the 56 percent, 30 percent are kept for freedom fighters' children and grandchildren, 10 percent for women, 10 percent for people of underdeveloped districts, five percent for members of indigenous communities and one percent for the physically challenged people.
NUR IN HOSPITAL
Nurul Haque Nur was receiving treatment at Anwar Khan Modern Medical College Hospital in Dhanmondi as of last night. Duty doctors said the condition was good though he was still feeling pain in different parts of his body.
An additional deputy commissioner of DMP along with his team last night visited Nur and asked his family members to inform police before getting Nur released from the hospital.
Family members suspect Nur might be shown arrested like Rashed. 
Visiting the hospital around 10:30pm, one of our reporters found a police van was parked in front of the hospital even after the ADC-led team left.
ATTACKS IN RU
Around 9:50am, students gathered at different points, including the premises of the Central Library, for forming human chains, when alleged BCL men attacked them, snatching their banners and forcing them to leave the spot.
About an hour later, a group of 100 to 150 students again regrouped and came to the library premises in an attempt to form a human chain. This time, more than a hundred BCL men wielding sticks swooped on them, according to witnesses.
The demonstrators were seen running in panic and trying to take shelter at different food and stationary shops, library and academic buildings.
The BCL men continued to chase the protesters and beat up those who took shelter in Paribahan Market area and Shahidullah Bhaban.
More than 10 students were wounded and six to seven of them took primary treatment at university medical centre.
"BCL men foiled our programmes twice and attacked us like a group of terrorists," said a female student, who was hurt.
Some students who were not involved with the quota reform movement were also injured.
One of them, preferring anonymity, said, "The BCL men chased me with wooden sticks and started beating me when I reached the Paribahan Market. I am not involved with the movement. I was just coming out of the library."
Contacted, RU BCL President Golam Kibria denied the allegation but said "some people" were trying to create anarchy on campus in the name of quota reform movement ahead of the national election, and the BCL resisted the attempt.
He threatened tougher actions against those who would resort to violence on the campus despite the declaration of the prime minister.
Mashud Munnaf, convener of the RU unit of the reformists' platform, said, "BCL men attacked our peaceful gathering. It's totally unacceptable."
Contacted, RU Proctor Prof Lutfor Rahman told this newspaper that they had asked the quota reformists not to hold any programme fearing violence ahead of Rajshahi City Corporation election.
Asked about the attacks, he said the authorities would look into the matter.
FOUR IN CUSTODY
At least four protesters were beaten up by BCL men led by Al Mamun, deputy secretary of the organisation's central committee, in front National Museum around 4:30pm in presence of law enforcers, according witnesses and DU students.
The identities of the four could not be known and they were later handed over to Shahbagh Police Station.
Abul Hasan, officer-in-charge of Shahbagh Police Station, said the four are now in their custody and steps would be taken after probe.
Later at night, The Daily Star tried to reach the OC over the phone repeatedly but failed. 
Contacted, Mamun admitted handing over four quota protesters to police and said students who believe in the ideals of Liberation War resisted attempts to create chaos in the name of quota reform movement.
[Our RU correspondent Arafat Rahaman contributed to this report]