Feathers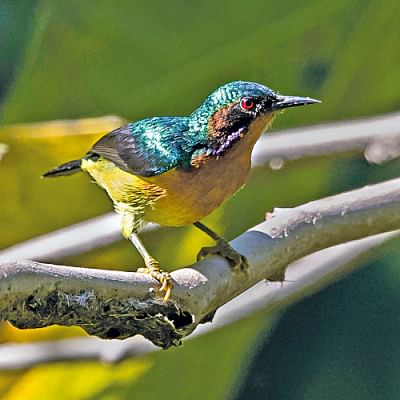 I recently finished the novel Where Crawdads Sing by Delia Owens. Set in the 1960s, the story is about a girl, Kya, who grows up alone in the marshes of North Carolina after being abandoned by her family. She is fiercely independent and survives by selling mussels at a local store. Her passion is nature and she is a devoted student of all forms of life on the marsh that surrounds her. However, due to unpleasant encounters with townsfolk when she was a child, she avoids human contact and social interaction.
When Kya is fourteen, a boy who also grew up around the marshes with his family becomes smitten with her and tries to gain her attention. He does this by giving her gifts. Kya will not meet any person, so he leaves the gifts at the stump of a tree where she finds them the next day. The gifts delight her and eventually the boy becomes a friend and teaches her to read and write.
What were these gifts? Feathers!
The first was a feather that sits over the eye of a Great Blue Heron and looks like an eyebrow. Then came the tail feather of an exotic Tropicbird. A Wild Turkey feather followed. All these feathers were difficult to acquire. The boy knew that Kya was aware of their significance and they would mean something special to her.
Today we do not look twice at feathers, but during history many cultures have considered them desirable, even precious. The white feathers of the Boro Bok, Great Egret, were used as ornament and decorations, so much so that millions of them were wiped out from Florida by plume hunters. A similar fate befell the White-throated Kingfisher – Shadagola Machranga – in India and China where they were caught with nets for their beautiful blue feathers. Today, down feathers of ducks and geese, notably the Eider Duck, are sought after for filling jackets and quilts.
Feathers are perhaps the most amazing part of birds. They have a complex, streamlined structure than function in all aspects of avian lives: flying, of course, but also attracting a mate, staying warm, keeping predators away and raising chicks.
Birds understand this utility very well. That is why they spend a good deal of time preening their feathers. This means cleaning away dirt and grime. They also align the thin barbs of the feathers in Velcro-like interlocking fashion. In flight, the feather then offers resistance to the wind creating lift. Some birds apply oil to their feather for keeping water away. All of this must be done frequently as feathers are heavily used every day.
My favourite feathers are those of a (male) sunbird. These small feathers have iridescence, that is, viewed from different angles they reflect light of different colours. Iridescence is the result of tiny structures in feathers that act like prisms, as Owens points out in the book.
Owens is an accomplished zoologist. Several decades ago, fresh out of college, she and her husband Mark spent seven years studying life in the Kalahari Desert, often under harsh conditions. Their written work went on to become classics of natural history.
In this novel, she has used her intimate knowledge of the natural world, such as feathers of different birds, with a compelling storyline to create a magnificent work.
facebook.com/ikabirphotographs or follow "ihtishamkabir" on Instagram.