EVM use in JS polls gets nod
Cabinet okays changes in RPO relaxing rules to allow loan defaulters to contest election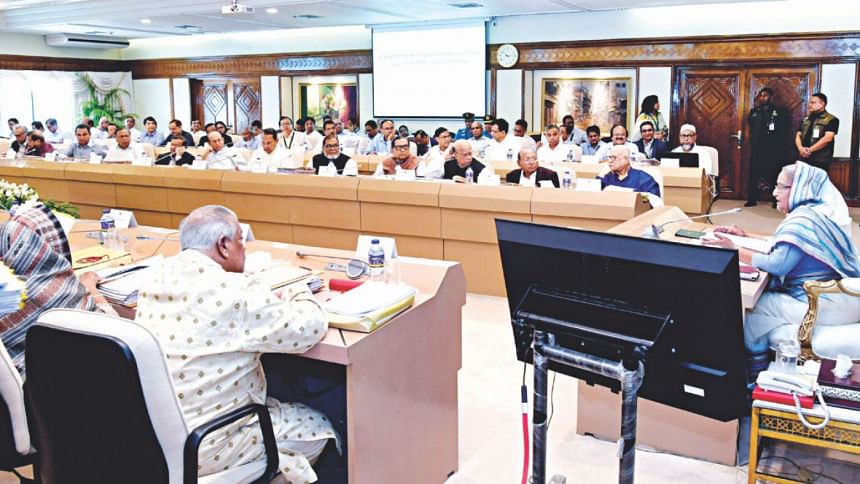 The cabinet yesterday approved major changes to the Representation of the People Order, paving the way for the use of Electronic Voting Machines in polls and relaxing the rules on loan defaulters contesting the polls.
The Election Commission would decide whether the EVM would be used in the next election and in how many constituencies, Cabinet Secretary Shafiul Alam told reporters at the secretariat.
The amended RPO will take effect once an ordinance is issued by the government, he said.
The cabinet gave final nod to the amendment. As the 10th parliament sat for the last time yesterday, there is no scope for passing the RPO amendment in parliament. 
The current RPO requires a loan defaulter candidate to repay the loan seven days before submitting the nomination paper.
Once the amended RPO takes effect, the defaulted loan can be paid on the day of submission of nomination papers.
"It will boost recovery of default loans," Shafiul said.
The amended RPO would also allow online submission of nomination.
EVM USE
The draft law incorporated several safety measures for EVM use, he said.
Mentioning that there are apprehensions as to whether the EVMs could be hacked, he said the machines would not be connected to any network.
It will be electronically protected to prevent tampering.  The EC-approved software will be used in the devices.
A maximum punishment of seven years in prison has been prescribed for tampering with the EVMs.
The EC approved the amendment proposal despite opposition from one of its members and sent it to the law ministry in September.
Mahbub Talukdar, one of the five commissioners, walked out of an EC meeting, giving a note of dissent on the move to approve the amendment proposal.
The EC on Saturday exhibited the machines in eight districts amid protests by opposition parties against using them.
On September 18, the Executive Committee of the National Economic Council approved a Tk-3,825 crore project to purchase 1.5 lakh EVMs in three phases in the next five years.
OTHER APPROVALS
The cabinet also approved a draft amendment to the brick manufacturing act.
It nodded in principle to the drafts of Bangladesh National Social Welfare Act and Bangabandhu Sheikh Mujibur Rahman Aviation and Aerospace University Act and Okayed National Information and Communication Technology Policy 2018 and National Telecommunications Policy 2018.
READ MORE: Full statement of Talukder