Barishal's biggest hospital grapples with doctor crisis
Nearly half the posts remain vacant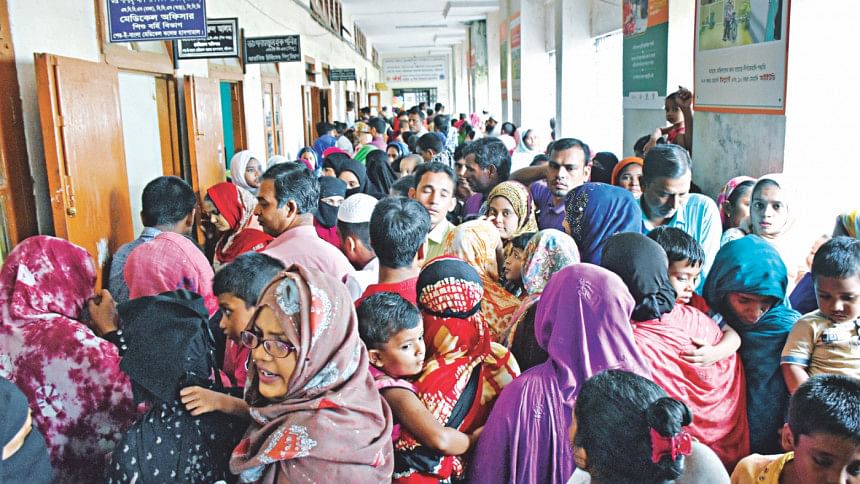 More than 43 percent of doctor posts are vacant at Sher-e-Bangla Medical College Hospital (SBMCH) in Barishal for a long time, depriving patients of required healthcare due to shortage of physicians.
According to the SBMCH authorities, 97 doctor posts out of total 224 are presently lying vacant.
Eventually, patients are suffering at the major hospital in the division comprising 45 wards -- including a newly introduced one for dengue.
Currently, 127 doctors are working at the hospital where around 2,000 patients usually remain admitted, said Dr Md Bakir Hossain, director of SBMCH.
Besides, thousands of outpatients take healthcare services on a daily basis.
Recently, around 1,986 patients remained admitted while 3,100 ones took treatment from the outpatient department, said the director.
Md Solaiman Kabir, registrar of the medicine ward, said a doctor has to perform their duties five times more than usual.
"Minimum five to seven minutes are needed to check up on a patient but we can't give such time. The ward can accommodate 35 patients but now 200 to 300 patients are staying here," he said, adding, "Here are only two mid-level doctors including me. We have to continue our duties for 24 hours."
The situation at emergency ward is even worse. Half of its doctor posts are vacant, said Director Bakir Hossain.
From the ward, around 500 to 800 patients are referred to other required wards every day while some 80-150 people receive on-the-spot treatment, ward sources said.
Ten doctor posts has been allotted to the emergency ward since the inception of the hospital in 1968, said Dr Mahabubur Rahman of the ward. But only five doctors are working round the clock, he added.
The situation creates negative perception among patients as they do not get due service at the initial stage, said the physician.
During a recent visit, this correspondent found several patients expressing dissatisfaction.
Schoolboy Arafat, 14, who went there from Jhalakathi was one of them. Being diagnosed with dengue, he spent three days at the hospital. He, however, did not find any doctor during his stay, he said.
The attendants of pneumonia patient Nishu, 5, had a similar experience. No physician except for an intern doctor visited her in three days, said her parents.
At the outpatient departments, hundreds of patients were lining up to receive treatment from morning to afternoon.
Director Bakir Hossain said, "It is becoming very tough to run the hospital with the current number of doctors. I contacted the health ministry several times, but to no avail."
"I last sent a letter to the ministry on September 22," said Dr Bakir. "We need at least 600 doctors to cope with the situation," he added.
The medical college has to open MS (master of surgery) and MD (doctor of medicine) courses so that mid-level doctors do not leave, the director said, adding that such a move can minimise the crisis to some extent.
"But, it will take time to introduce the courses," said Prof Masumul Haque, principal of Sher-e-Bangla Medical College. "We cannot do this right now as we have no professors at medicine and some other departments," he added.
Sher-e-Bangla Medical College Hospital was established in 1968 with 250 beds. In 1975, the number was increased to 500 and in 2011 to 1,000 but manpower was not employed as per need, according to the authorities.