AB home, for good
The legend laid to rest beside his Ma
As he performed just last Saturday at GEC Convention Centre in Chattogram, little did anyone know that he would be back here in a week.
But this time, he wouldn't be performing.
Instead, this Saturday, the air hung heavy, as did the hearts of those mourning the loss of the legend that is Ayub Bachchu, affectionately known as AB.
As Bachchu's body was escorted under the supervision of AJM Nasir Uddin, mayor of Chattogram City Corporation (CCC) yesterday to his maternal house at Balur Math in Purba Madarbari area from Shah Amanat International Airport at 11:30am, people from all over the city gathered to catch the last glimpse of the rockstar that had found a place in almost every Bangladeshi's hearts.
"I know how much everyone loves my father. Please pray for his departed soul and forgive him if anyone was ever hurt by him. Your prayers and love will ease his transition to the beyond," said Ahnaf Tazwar Ayub, Bachchu's son, to his father's admirers.
Tushar Rahman, a student of Premier University and an ardent lover of Bachchu's music broke down and said, "Why did he have to leave so early! I don't know how to express my feelings. I spent my entire childhood listening to his music. He is and forever will be my favourite musician."
Bachchu's body was then taken to Jamiatul Falah Jam-e-Masjid at Dampara Wasa intersection at 2:30pm for the namaz-e-janaza after Asr prayers. The wave of people overflowed the whole ground, the biggest Eidgah of the city, and completely covered the street before it.
Musicians and cultural activists from around the city gathered at the place with flower wreaths as every one of them spoke of the irreparable loss to the music industry.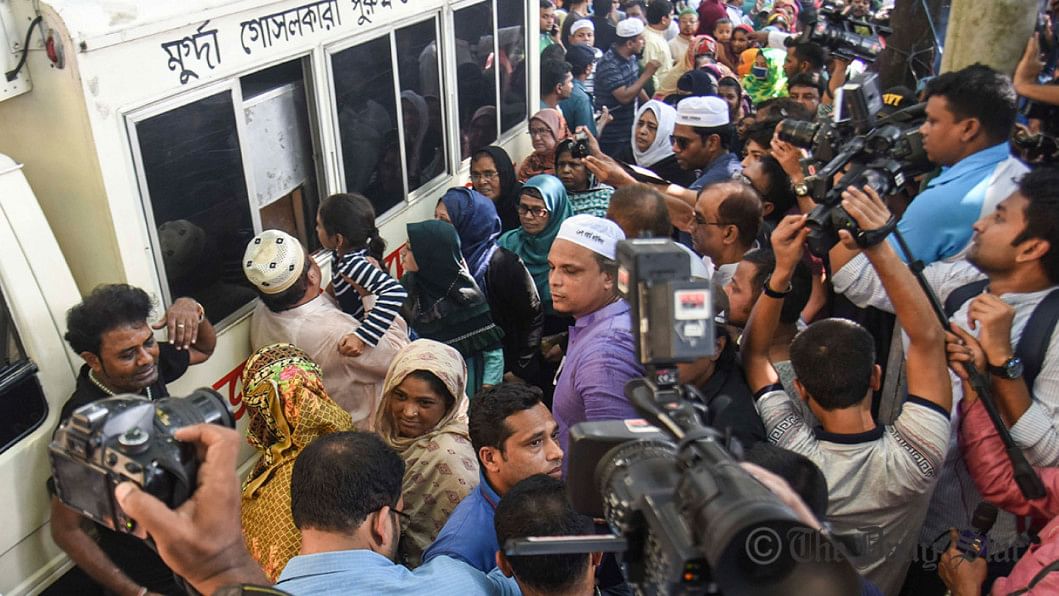 "We've known each other since 1983. We practiced and played together. Even after becoming one of the most popular artistes of the country, he never turned his back on anyone. He was a great man, even before he became a great musician," said Kazi Moshiur Rahman, member of the rock band Rhythm.
Professor Dr Iftekhar Uddin Chowdhury, vice chancellor of University of Chittagong, who came to say the janaza prayer, said the university authorities would set up a corner at its central museum to cherish the memory of the legend.
"He is a gem of our country. The university authority will be honoured to do something to pay homage to his memory. If his family members provide us with some of the guitars and accessories he used, we will arrange to preserve them," he said.
Mohammad Iqbal Hossain, general secretary of Chittagong Musical Band Association, said the amount of inspiration all young musicians in the country received from Bachchu was second to none.
"The position where Bengali rock music is today has a great debt towards Bachchu bhai. He is the pioneer of guitar showmanship in the industry and there will never be another like him."
Mayor AJM Nasir Uddin declared that a road will be named after Ayub Bachchu to commemorate such a glorious son of this soil.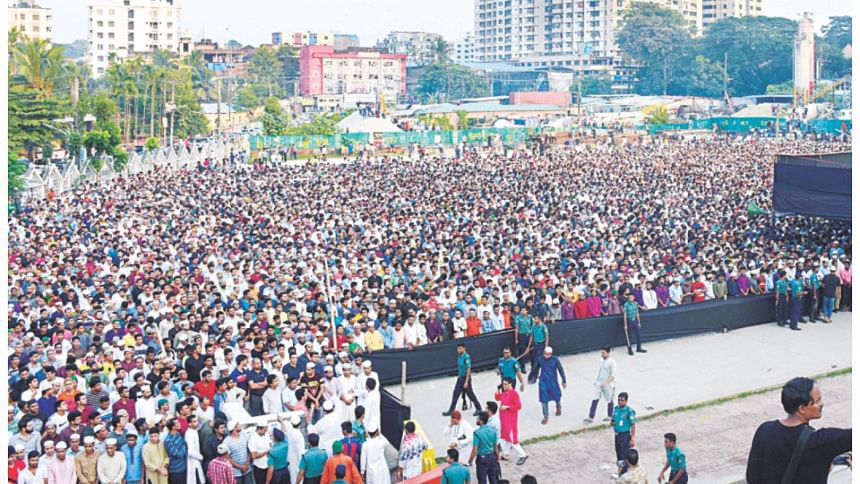 "In the CCC general meeting today, I will propose that an important road in the city be named after Ayub Bachchu. I will also request the concerned ministry to rename the Muslim Hall at Nandankanan area in the city after him," he said.
As the janaza came to an end at 4:30pm, a crowd of hundreds, including family, admirers, fans, and colleagues, poured into the port city yesterday as their favourite rock musician Ayub Bachchu was taken to Baishamahalla graveyard at Chaitanyagoli area near Station Road.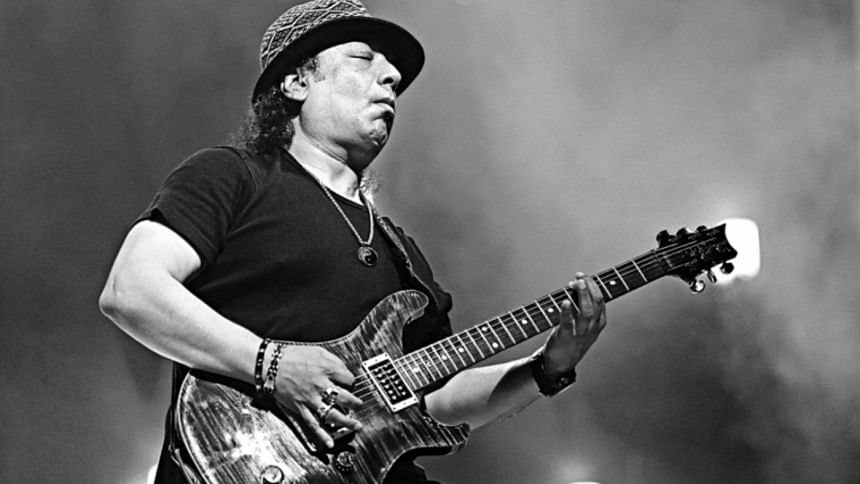 As people, out of respect, let his family bid their last farewell, the musician was carried into the graveyard by just his family members. Ayub Bachchu was laid to rest at 5:15pm next to his mother.
Ayub Bachchu was born in 1962 at Firingi Bazar area in Chattogram. Roaming around the alleys of Jubilee Road with a guitar in his hand, he later went on to conquer the hearts of millions. Even though his soul left the material world, he will live on in the hearts of his fans, through the tunes of his music and the soulful words he had sewn into them.