From the archives: Silence of the strings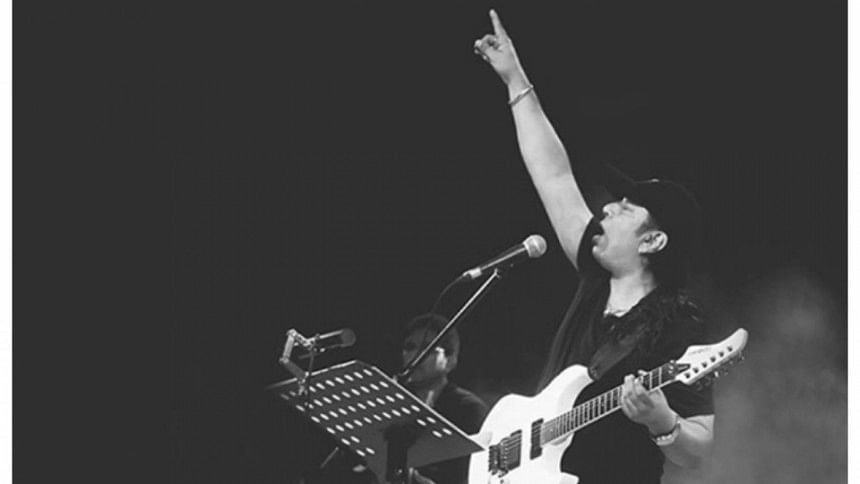 Music was not just a passion to the self-taught guitarist, it was his sole profession, and fortune did not let him down either. The word "legend" is generously used to refer to celebrities nowadays but Ayub Bachchu was and remains a legend in the truest sense.
The bona fide rock legend and founder of the musical band LRB died of a heart attack in Dhaka yesterday at the age of 56. He was taken to Square Hospital around 9:15am when doctors declared him "brought dead", a staff of emergency unit of the hospital, told The Daily Star. Earlier in the morning, Bachchu was found in an unconscious state at his Moghbazar residence.
The namaz-e-janaza of Ayub Bachchu will be held at Eidgah Maidan after Jummah prayers today. Before janaza, his body will be kept at Central Shaheed Minar between 10:30am and 12:30pm so that fans and people from all walks of life can pay their last respects, according to sources at Sommilito Sangskritik Jote.
Bachchu will be buried next to his mother at their family graveyard in Chattogram on Saturday, family sources said.  He left behind his wife, a son and a daughter, alongside a huge number of relatives, disciples and admirers to mourn his death.
Ask someone growing up in the 1990s to name three Bangladeshi musicians who defined that era musically, and Ayub Bachchu will most certainly make that list. The '90s were a pivotal period of time, as the first half of the decade saw some major changes in urban taste in music. It was a booming time for pop and rock bands. Bangladeshis were finally getting a taste of concerts that included phenomenal live performances by bands.
Ayub Bachchu rose to national stardom in the '90s and never descended.
Bachchu was born on August 16, 1962 to Haji Mohammad Ishuque Chowdhury and Nurjahan Parvin. Considering the social setting of Chattogram in the mid-1970s, unsurprisingly, his family resisted the teenager's decision to pursue music professionally. Bachchu left the port city, moved to Dhaka, and like many aspiring artistes endured struggling times. He stayed in a hotel on Elephant Road and performed small gigs to make ends meet.
In his early days, Bachchu was a member of Souls, a band which kick-started the careers of several musicians who would later go on to make their indelible marks in the Bangladeshi music industry.
When Bachchu formed LRB in the early '90s, rock music was still not considered "mainstream" in the country. LRB's music became a bridge between two worlds -- the young, hardcore rock listeners and the older, uninitiated generation. Case in point: "Ferari Mon (Unplugged)" released in 1996 which featured mellower versions of "Ekhon onek raat", "Cholo bodley jai", "Madhobi" and "Rupali guitar". The silver guitar would forever be associated with the musician, widely considered one of the most gifted guitarists the country has ever produced.
His midas touch as a singer and composer did not stay limited to rock music. Bachchu's foray into film music (starting in the late 90s) gave the audiences some gems like "Anonto prem", "Ami toh prem-e porini" and "Ammajaan". In fact, the song "Ammajaan" became the most popular film song of 1999 and gave Bachchu's identity as an artiste a new dimension.
As the frontman of LRB, Bachchu performed at over a thousand concerts at home and abroad, including at the iconic Madison Square Garden in New York.
Bachchu and LRB were particularly popular in West Bengal, India and had performed extensively in the neighbouring country.
While LRB's sound was predominantly rock, as a solo musician Bachchu went into more melodious numbers and experimented with blues, jazz and funk in albums like "Shomoy" and "Eka". He even recorded folk songs including "Majhi baiya jao re", "Porer jaiga porer jomi" and "Shob lokey koi".
In the late 2000s, Bachchu started a musical project called 'AB Blues Club' through which he focused particularly on blues music.
LRB and Bachchu's notable albums include: "Shukh" (1993), "Ghumonto Shohore" (1995), "Amader Bishshoy" (1998), "Mon Chaile Mon Paabe" (2000), "Pother Gaan" (2004), instrumental album "Sound of Silence" (2007), "Bolini Kokhono" (2009), "Juddho" (2012) and "Jiboner Golpo" (2015).
Bachchu's strength was his sustained musical prowess. Till his very untimely and shocking demise yesterday, he remained a ubiquitous frontman of Bangla rock music.
CONDOLENCES POUR IN
President Abdul Hamid and Prime Minister Sheikh Hasina expressed deep shock at the death of the popular singer.
In his message, the president prayed for the eternal peace of the departed soul and conveyed sympathy to the bereaved family members, reports UNB.
Cultural Affairs Minister Asaduzzaman Noor also expressed profound shock at the death, the report added.
In his message, Asadduzzaman Noor said Ayub Bachchu took the band song of Bangladesh to a higher level. His contributions to popularising band music among the young people were immense. "The people of the country, especially the young generation, will remember him forever."
Bachchu's fans flooded social media platforms expressing their deepest condolences.
Meanwhile, Jatiya Sangsad (JS) Speaker Dr Shirin Sharmin Chaudhury also expressed deep shock and sorrow at the death of Ayub.
In a condolence message, the speaker recalled with profound respect his contribution to the field of music industry.
Besides, JS Deputy Speaker Md Fazle Rabbi Miah and Chief Whip ASM Feroz also expressed profound shock at his death.
Elsewhere, in separate messages, several ministers expressed deep sympathy for the bereaved family members and prayed for eternal peace of the departed soul.
The cabinet members are: Road Transport and Bridges Minister Obaidul Quader, Social Welfare Minister Rashed Khan Menon, Cultural Affairs Minister Asaduzzaman Noor, Planning Minister AHM Mustafa Kamal, Expatriates' Welfare and Overseas Employment Minister Nurul Islam, Posts, Telecommunications and Information Technology Minister Mustafa Jabbar, State Minister for Public Administration Ismat Ara Sadek and Minister for Finance AMA Muhith.
They said Ayub Bacchu was a legend in the country's band music arena whose contributions to the music field will be remembered forever.
[Photo collected from Facebook page Ayub Bachchu AB]