Hajj flights cancellation due to agencies' failure: Minister
2 more flights cancelled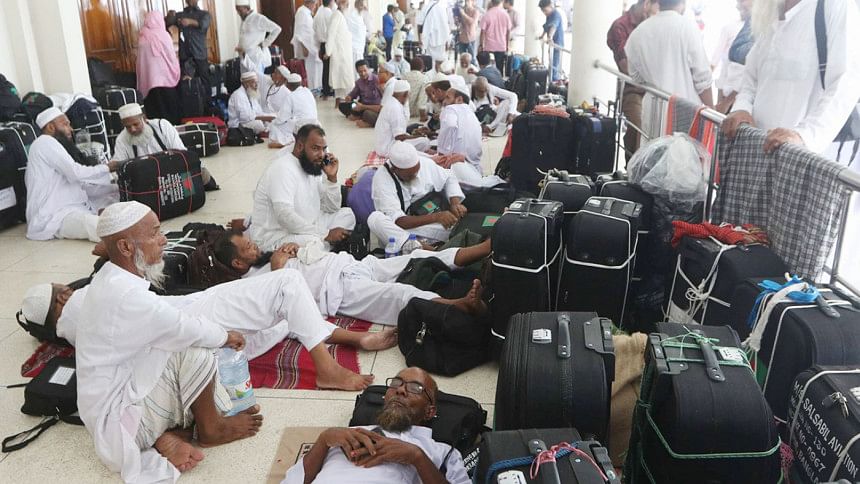 Religious Affairs Minister Motiur Rahman today came down heavily on a section of hajj agencies over cancellation of hajj flights of Biman Bangladesh Airlines.
"The hajj flights are being cancelled due to the agencies' failure to send the pilgrims on the due date," the minister said while addressing a programme in Dhaka.
The minister alleged that in a bid to make more profit, hajj agencies want to send pilgrims at the last moment.
"The hajj agencies think they will have to spend less money for food and accommodation of the pilgrims if they can send them making delay," he added.
2 more flights cancelled
Meanwhile, in continuation of the mess with hajj management, two more flights of Biman were cancelled today due to the shortage of pilgrims.
The airlines' General Manager (public relations) Shakil Meraj confirmed The Daily Star of the development. Both flights were scheduled to depart today.
Each flight can ferry 400 pilgrims, amounting to capacity loss of 800 passengers today. So far, a total of 21 hajj flights of the national flag carrier has been cancelled.
Md Shahdat Hossain Taslim, secretary general of private hajj managers' body Hajj Agencies' Association of Bangladesh (Haab), told The Daily Star that still, 4,500 pilgrims are waiting to fly to Saudi Arabia.
Biman has already said it has lost state-revenue of Tk 40 crore due to the mismanagement.