Charity swindlers caught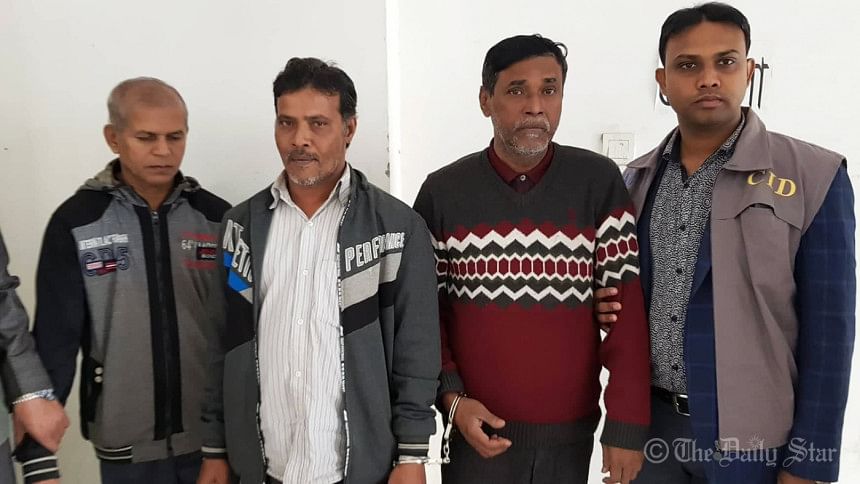 Sacked customs official Helaluddin used to identify himself as a social worker.
Preparing fake documents of Bangladesh Bank and letters with the prime minister's fake signature, the 55-year-old met various charity organisations, mostly mosque and madrasa committees.
He showed them the documents and sought money from them, claiming that he has around Tk 54,000 crore stuck in Bangladesh Bank and needs investment to release the fund.
Helal then lured the organisations into giving him some money and promised them two percent of the fund. Using the technique, Helal along with seven others allegedly misappropriated Tk 42 lakh from a madrasa in the capital's Pallabi area.
The Criminal Investigation Department (CID) of police got the information while investigating a case filed with Pallabi Police Station on November 29 last year. CID also arrested Helal and two others -- Enamul Haque, 28, and Nazmul Habib, 54.
Syeda Zannat Ara, special superintendent of CID, said they found out about it after interrogating the three.
Gleaning information from them, the CID team arrested three more after conducting drives in different parts of the capital on Monday.
While addressing a briefing at CID Headquarters yesterday, Syeda Zannat did not disclose the arrestees' identity as the mastermind behind the gang might go into hiding.
She mentioned that the three arrestees are influential people.
She said the gang not only made fake signature of the prime minister, but also created fake signs and seals of prominent persons including the Bangladesh Bank governor, ACC chairman, NBR chairman and NSI chief.
Newton Kumar Datta, sub-inspector of CID, who conducted the drive, told The Daily Star that Helal completed his graduation from Dhaka University in 1985 in English and got a job at Mongla port as a customs official.
He was sacked in 1997 on corruption charges. He was arrested in 2005 and jailed for 27 months in a case filed by the ACC.
Getting out of jail, Helal started working with his relatives in Laxmipur. He met Nazmul, an Alico official, in Dhaka in 2015.
Nazmul, who graduated from Jagannath College in 1988, used to provide Helal with the fake bank documents, said the sub-inspector.
They formed the gang after meeting Enamul and soon started adding more people.
"We are trying to identify the mastermind and bring all the gang members to book," said special superintendent Zannat.