Mexican player's relative ordered kidnapping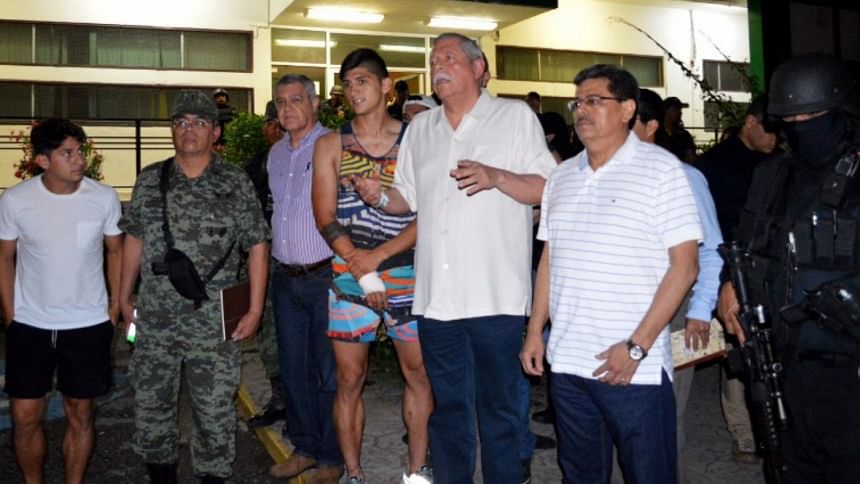 Mexican authorities arrested a man married to a cousin of football star Alan Pulido, accusing the suspect of ordering the player's high-profile kidnapping over the weekend.
Osvaldo Velazquez Garcia, 29, was wounded and detained in a house in the northeastern city of Ciudad Victoria after a shootout with federal police, said Tamaulipas state prosecutor Ismael Quintanilla.
Velazquez started shooting after he was surrounded, Quintanilla said. He was hit in the right shoulder and lightly wounded in the neck, but he is out of danger.
He was identified as the alleged mastermind of the kidnapping by a 38-year-old accomplice who was arrested late Sunday after Pulido managed to punch one captor and call the police.
"He's the husband of a cousin" of Pulido's, Quintanilla said, adding a new twist to a case that has drawn praise for Pulido's heroics but also raised doubts about the official version of events.
The prosecutor said Velazquez was a member of a criminal organization linked to drug trafficking, kidnappings and extortion.
He did not identify the group, but the Zetas drug cartel is a force in one of the most dangerous regions in Mexico, plagued with homicides, kidnappings and thousands of disappearances.
$325,000 ransom
Velazquez was present at a party that Pulido, a striker with Greek club Olympiakos, attended before he was kidnapped on Saturday, Quintanilla told a news conference.
The suspect communicated with the other kidnappers to tell them that the player had left the event and the type of car he was driving, the prosecutor said.
Pulido, who was part of Mexico's 2014 World Cup team, had left the party with his girlfriend when they were intercepted by four gunmen, who let the woman go.
Authorities say Pulido was freed after he was left alone with one kidnapper in a two-story home and seized on the opportunity to beat up the suspect, take his phone away and call an emergency number.
Police found Pulido within minutes, barely 24 hours after he was kidnapped.
Pulido's brother, Armando, who plays for Greek second division team Kissamikos, told Radio Imagen that there were about 40 people at the party.
The brothers sat at a table with a dozen friends and siblings of friends. Alan Pulido left with his girlfriend before his brother, and he was kidnapped minutes later.
He said the brothers do not hire security when they visit their hometown "because the people of Ciudad Victoria have always been very affectionate with us."
"We never thought that something of this magnitude could happen," he said.
The first contact with the kidnappers took place on Sunday around 2:00 pm when they called a relative, he said.
Armando Pulido handled the negotiations with the kidnappers, who demanded six million pesos ($325,000) in ransom.
When he told them that he could not get so much cash on a Sunday and that they give him until Monday, the man on the phone responded: "You'll find him dead in the morning."
Skepticism over case
Security experts and pundits have raised questions about the case, wondering how Pulido was able to overpower professional kidnappers in a state where criminal groups specialize in abductions and 5,500 people remain missing.
"If it's true, then we are talking about a monumental degree of incompetence by the kidnappers," Alejandro Hope, editor of ElDailyPost.com and a former Mexican intelligence agency official, told AFP.
The timing also raised eyebrows because the kidnapping occurred days before state elections on Sunday.
"It fuels suspicions even more," wrote El Universal columnist Luis Cardenas.
But Quintanilla rejected speculation that the kidnapping was staged to influence the elections, saying it would take a "very large group of actors" to pull it off.