Eid-ul-Azha celebrated with due religious fervor in Dhaka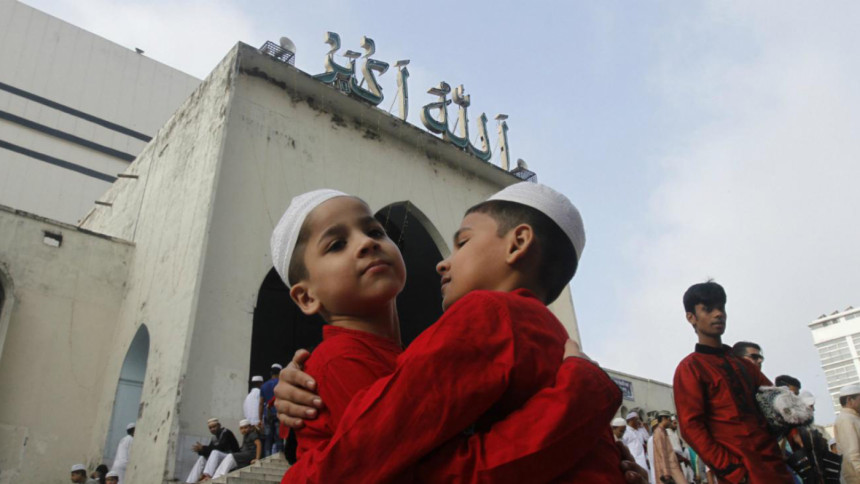 The holy Eid-ul-Azha, one of the biggest religious festivals of Muslim community, was celebrated today in the capital city with due solemnity and religious fervor.
The festival began in the morning with offering of Eid prayers by millions of Muslims at mosques and eidgahs here. They prayed for divine blessings for peace, progress and prosperity of the country and welfare of the Muslim Ummah.
The prayers were followed by sacrificing of animals in the name of Allah. The main Eid jamaat (congregation) was held at 8 am on the National Eidgah adjacent to the High Court while the biggest one at Sholakia of Kishoreganj district.
Hundreds of Muslims including political leaders, judges of the Supreme Court, diplomats, high civil and military officials and educationists offered their Eid-ul-Azha prayers on the National Eidgah Maidan. The jamaat was arranged under the auspices of Dhaka South City Corporation (DSCC).
The Eid-ul-Azha is celebrated on the 10th of Zilhajj month of the Hizri calendar as Hazrat Ibrahim (AS), on this day some 4,000 years ago, offered to sacrifice his beloved son Hazrat Ismail (AS) who willingly submitted to the will of his father to please Allah. But the Almighty in His benign mercy spared Hazrat Ismail (AS) and instead sent a ram to be sacrificed.
To commemorate this historic event, the Muslims all over the world slaughter sacrificial animals and draw inspiration from the unique example of sacrifice by two great prophets -- Hazrat Ibrahim (AS) and Hazrat Ismail (AS) - to please Allah.
State-run Bangladesh Television and Bangladesh Betar and other TV channels and radio stations are airing special programmes on the Eid.
National flags were hoisted at different government and non-government offices and Bangladesh missions abroad marking the day. City streets were decorated with national flags and festoons inscribed with different messages on Eid-ul-Azha. Important public and private buildings has been illuminated in the capital and other cities.
On the day, better foods were served to hospitals, prisons, orphanages, safe homes and shelter centers. President Abdul Hamid, Prime Minister Sheikh Hasina, and Leader of the Opposition in Parliament Begum Raushan Ershad issued separate messages, greeting the Muslims in Bangladesh and all over the world on the occasion of Eid-ul Azha.
Special arrangements have been made for women and foreign diplomats to say Eid prayers at the National Eidgah.
Five more congregations were also held at Baitul Mukarram National Mosque at 7 am, 8 am, 9 am, 10 am and at 11 am. Two city corporations -- Dhaka South and Dhaka North --arranged 362 Eid congregations in the capital. Of those, Dhaka South held 228 congregations.
The Parliament Secretariat arranged an Eid congregation at the South Plaza of Jatiya Sangsad Bhaban at 7 am. Cabinet members, officials and employees of the secretariat and locals offered prayers there.
Two Eid congregations took place at Dhaka University Central Mosque at 8 am and 9 am while congregation was held at Bangladesh University of Engineering and Technology (BUET) playground at 6.45 am.
Besides, congregations took place on DU Salimullah Hall field main gate and Shahidullah Hall lawn at 8am.
Eid-jamaat of Bangabandhu Sheikh Mujibur Rahman Medical University was held at the university's central Jame Mosque at 7am.
The places, where congregation was three times, were Sayedabad Arjushah Pak Darbar Sharif Bara Jame Mosque, Arambag Baberahamat Dewanbagh Sharif, Kazipara Kendrio Jame Mosque.
While twice congregations were held at Dakkhin Banashri Kendrio Jame Mosque, Maniknagar Pukurpar Jame Mosque, Rasulbag Jame Mosque at Dakkhin Mugda Bank Colony, Matuyail Darbare Mojaddediya at Jatrabari and Khilkhet Kurmitola High School and College Eidgah.
In all congregations, special prayers offered for unity and integrity of the Muslim ummah, and peace, progress and prosperity of the nation.