'Dylan Debate' engrosses Dhaka's literary minds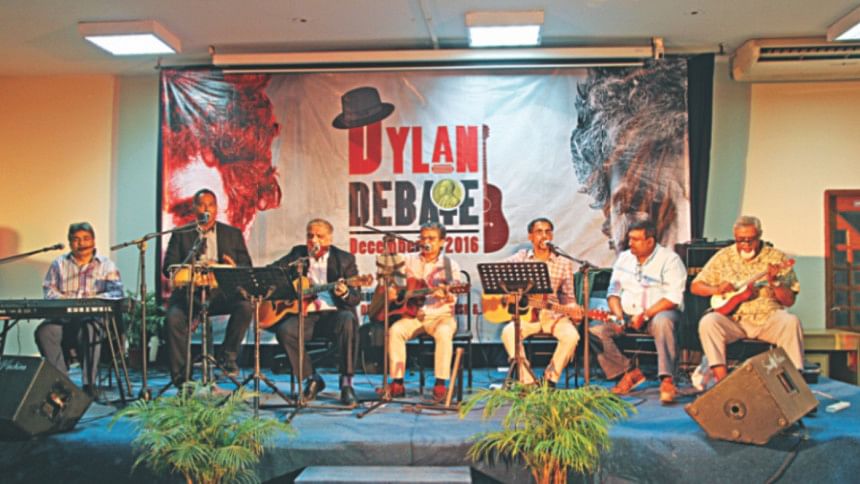 It has been nearly two months since Bob Dylan was declared winner of this year's Nobel in literature, making him the only singer-songwriter to win the award.
He has been incommunicado for first several days and unexpectedly late even in acknowledging the receipt of the news. Then weeks later Dylan wrote to the Nobel Prize Academy that he wished he could receive the prize personally, but other commitments made it unfortunately impossible.
And as the day to confer the laurel on him comes closer, Bob Dylan, regarded as the voice of a generation for his influential songs from the 1960s onwards, has provided a speech which would be read at the Nobel banquet in Stockholm tomorrow.
After all these weeks, a debate is still far from over on how prudent it was a decision on part of the Nobel Committee to award Dylan a literature Nobel -- when the likes of Syrian poet Adonis (Ali Ahmad Said Esber), Japanese author Haruki Murakami, and American novelist Philip Milton Roth had been stronger contenders.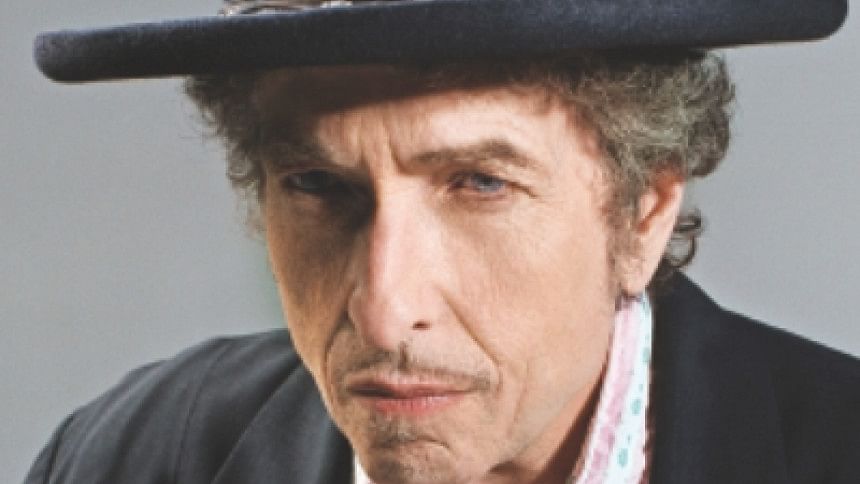 How often one gets to see such a Nobel decision getting so divisive as the debate rolls down to wider public sphere.
Yesterday, an audience in Dhaka, nearly 7,000km away from Stockholm, witnessed a "Dylan Debate" where some of the country's best literary minds took part on a motion -- "Bob Dylan does not deserve the Nobel Prize in literature."
After over an hour-long debate, Swedish ambassador Johan Frisell, who was present as the adjudicator, declared the team that opposed the motion as the winner --reasserting the Nobel Committee's decision.
A close result came in through audiences' vote as well, where 49 voted against the motion, meaning supporting Dylan's getting the laurel, and 41 others gave their verdicts favouring it.
The Department of English and Humanities of the University of Liberal Arts Bangladesh (ULAB) organised the Dylan Debate in its auditorium in Dhanmondi.
The panelists got engaged in an animated and passionate argument over why Bob Dylan's work should or should not be considered as literature, which also brought in the basic question, "what is literature?"
Debaters professors Syed Manzoorul Islam, Firdous Azim and Hasan Al Zayed, who teamed up for defending the motion raised the questions of Dylan's relevance at present time and about the aesthetic values of his songs.
Prof Manzoorul came rather harsh on Dylan saying "there are rhymes in Dylan's songs but not poetry. He belongs to popular culture".
Professors Kaiser Haq and Fakhrul Alam and musician Maqsoodul Haque, who opposed the motion, argued that Dylan's songs have deep poetic essence and he is as relevant today as he has been in the 60s.
In pursuit to hush up the opponents, Prof Kaiser said if it was a problem that Dylan could be heard, not read then one has to understand that for centuries Baul music and Mongol Kabya etc have been performed and not read -- but those are being read and getting more relevance in modern day literature.
The debate session was followed by rendition of some of the best Dylan numbers by musicians like Maqsoodul Haque, Kaiser Kabir, Shahbaz Khan Pilu, Ihsanul Haque, Bappi Rahman, Reazur Rahman, Foad Nasser Babu and Prof Imran Rahman, vice chancellor of the university.
The audience was mesmerised by the artistes' rendition of the musical numbers that include, among others, "Mr Tambourine Man", "Sara" and "Man Gave Names to All the Animals". 
Juditha Ohlmacher, member of the board of trustees, ULAB, presented the debaters and musicians with crests while Prof Imran and Prof Shamsad Murtoza, head of the English department, also spoke.