'This didn't happen during Pak-British rule'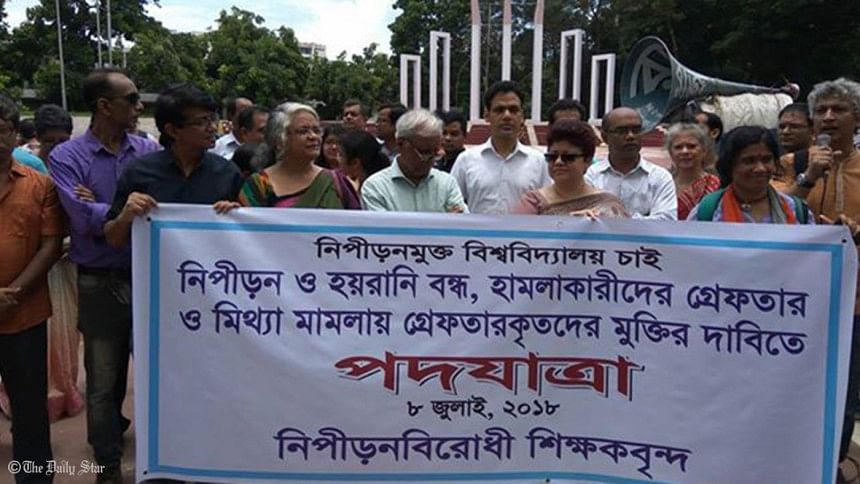 Condemning the attacks on general students demanding quota reforms, Sirajul Islam Chowdhury, a professor of Dhaka University, today said the incidents that had happened are "unfortunate, shameful and unbelievable".
This did not happen during the Pakistan or British period, Bangla daily Prothom Alo reports quoting Sirajul Islam.
The professor made the remarks during a programme arranged by a faction of DU teachers at the Central Shaheed Minar premises this morning, demanding a campus free of repression.
"The quota-reform movement is fair and logical. For this, boys, girls, guardians and teachers have all extended their support to the quota-reform movement," Sirajul Islam was quoted as saying according to Prothom Alo.
"The government was compelled to form a committee owing to the protests. But the protesters were brutally and barbarically attacked. I have never seen such brutal attack with a hammer," he added.
"Given the current situation, there is no security of people. Cases are being filed against those who are protesting. With today's protest, I press my demand for quota reform," Sirajul Islam said.
Today, teachers under the banner of "Nipiron Birodhi Shikkhokbrindo [Teachers Against Repression]" staged a demonstration from 11:00am to 11:45am, reports our DU correspondent.
Speakers at the demonstration also demanded the authorities to immediately arrest the attackers on general students, who have been demanding reform of quota system, on campuses across the country, bear the expenses of medical treatment to those injured in the assaults, and release those arrested in "false cases" filed during the movement.
They also urged the authorities to bring an end the string of assaults and repressions on general students and teachers.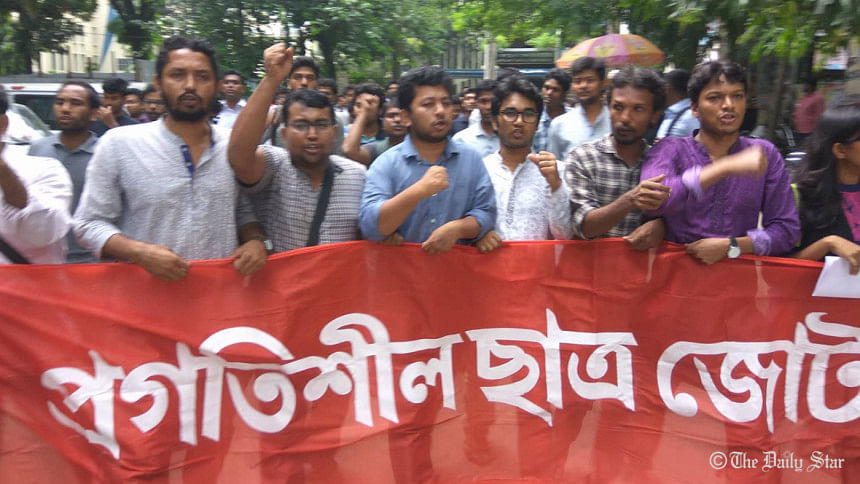 Teachers of DU's Journalism and Mass Communication department Gitiara Nasrin and Fahmidul Haq also spoke among others.
The demonstration came as a response to an assault on DU teacher Fahmidul Haq by police officials as they foiled a citizens' demonstration expressing concern over the detention of quota reform leaders on the Jatiya Press Club premises on July 3.
Police also detained a former Jahangirnagar University teacher and a former student leader from the programme and later released them.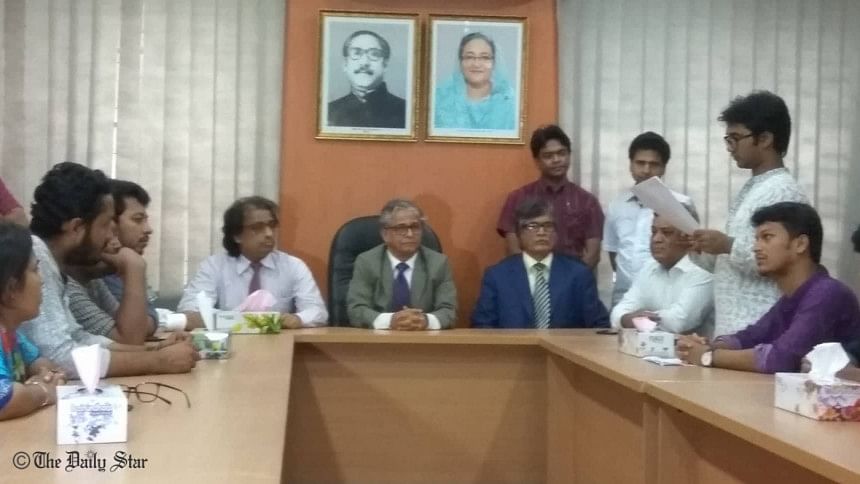 Meanwhile, a faction of students under the banner of "Progotishil Chhatra Jote [Progressive Students' Alliance]" today brought out a procession on the DU campus around 12:15pm protesting brutalities inflicted on general students allegedly by Chhatra League activists across the country.
They also condemned the arrest of several student leaders of the ongoing quota reform movement in different cases and demanded their release.
The students later met DU VC Prof Akhtaruzzaman and submitted a memorandum to him around 1:00pm.