DSCC councillor Manju held for extortion
Rapid Action Battalion (Rab) detained Mainul Haque Manju, Dhaka South City Corporation councillor of ward No. 39, from his office in Tikatuli area of Dhaka in an extortion case.
A team of Rab-3 seized two firearms, alcohol and banned drugs while conducting the raid at the ward councillor's office, said Commanding Officer (CO) Lt Col Shafee Bulbul.
The raid was conducted as part of the recent drives against casinos, the Rab official told reporters.
Md Roni, a businessman of Rajdhani Super Market in Tikatuli, filed the extortion case against Manju with Wari Police Station last evening.
In the case statement, Roni said Manju demanded Tk 2 lakh money from him as toll.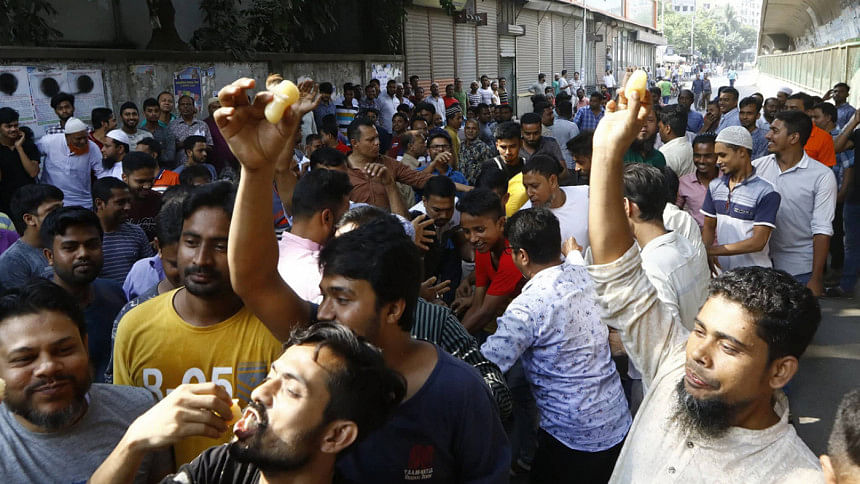 Manju is also accused of two other cases filed with different police stations. Two more cases will be filed against him under narcotic control and arms acts, the Rab official said.
Manju earned millions of taka through extortion, illegal occupancy and other criminal activities and sent the money through Hundi to America, where his family lives, Lt Col Shafee Bulbul said.
In reply to a query regarding why Manju was not arrested earlier though there were cases against him and his office housed in the same building where the Rab-3 office is, Lt Col Shafee Bulbul said that they conducted the drive after collecting evidence against him.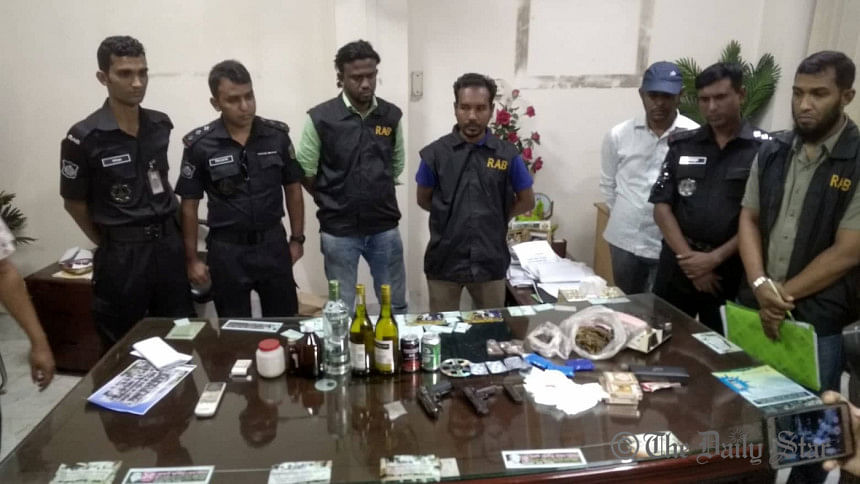 Meanwhile, around 100 businessmen of Rajdhani Super Market gathered in front of Manju's office where the raid took place and distributed sweets to celebrate the arrest.
They also demanded the highest punishment for Manju.
One such businessman Md Azad, who has a fast food shop at the market, alleged that Manju had demanded Tk 1.20 lakh from him eight months ago and shut the shop as he was unable to pay the money. His people allowed him to open the shop only after the payment of the money.
While talking to The Daily Star, Azad said he wants to do business in an extortion-free environment.
Another businessman of the market, Aktar Hosen said Manju declared himself as the president of the market. "Anybody who wanted to work in the market, had to pay Manju Tk 2 to 3 lakhs first," Aktar said.
Manju also collected around Tk 5 crore from the businessmen of the market to install AC there, but he embezzled the money, Aktar alleged.
"Manju has been running the extortion through his people for nine years, now we want a change," Aktar also said.
Md Shentu, another businessman and a former member of the committee of a mosque in the area, said Manju used to take Tk 10,000 to Tk 12,000 from mosque's donation fund in every week in the last 10 years.
"But he never worked for the betterment of the mosque," Shentu added.