Casino: 14-party condemns authority for its failure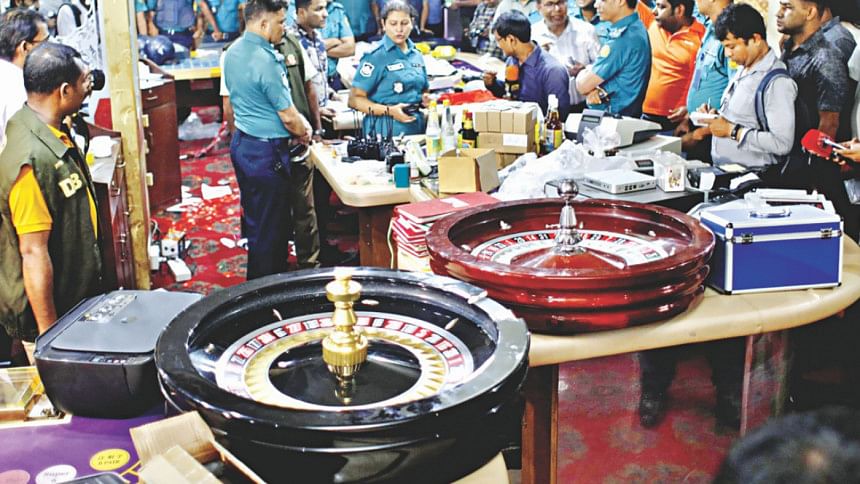 The ruling Awami League-led 14-party alliance today expressed grave condemnation to the authority for its failure and inaction against the rise of gambling and casino business under the nose of administration.
The 14-party alliance expressed the condemnation at a meeting held at Awami League central office at Bangabandhu Avenue in Dhaka this afternoon.
After the meeting, Mohammad Nasim, spokesperson of the alliance, told reporters that they are happy with the crackdown being continued across the country on corruption and social offences.
"We are happy with the ongoing drive that started to stop the casino business. We congratulate it," said Nasim, also a presidium member of the Awami League.
At the same time, Nasim expressed his disappointment over the involvement of some political leaders with the casino business.
"We got stunned and surprised as to how the casino business is operated under the very nose of the administration. We condemned the administration for its failure and inaction," he said.
He also called upon the respective ministries to take necessary step for uprooting such business. "No rogue should be sheltered or nurtured."
Blaming the authorities for nurturing corruption within the administration, Nasim said, "We can't accept that some corrupts will tarnish the government achievement."
He said Prime Minister Sheikh Hasina has taken a strong step against the corruption. "We, the 14-party alliance is with her (Hasina)," he added.
Besides, he called upon all the concerned authorities to remain alert so that no evil forces can raise their ugly heads taking opportunities of the anti-corruption crackdown. Measures against the people, who are involved in the corruption, will have to be taken, he added.
When asked about the fact of Youngmen's Club, Workers Party President Rashed Khan Menon, who is also the president of the club where a Jubo League leader ran a casino, said, "It was an ornamental post, not in terms of responsibility."
"I told earlier that I went to the club only once and cut a ribbon (of the club) and that was the last day. If I am is stigmatized for that then be it so," he said.
When asked that he should have known about the casino as a local lawmaker, Menon said, "No people in the administration could come to know the matter, then how do I know. It is not so easy. "I went there in 2016 and the casino business was started in 2017," he added.
Jatiya Samajtantrik Dal, President Hasanul Haque Inu, who is also a component of the 14-party alliance, said, "Black cat of corruption will have to uproot from administration and politics and measures must have to take against the offenders."