'Govt takes zero-tolerance policy against casino'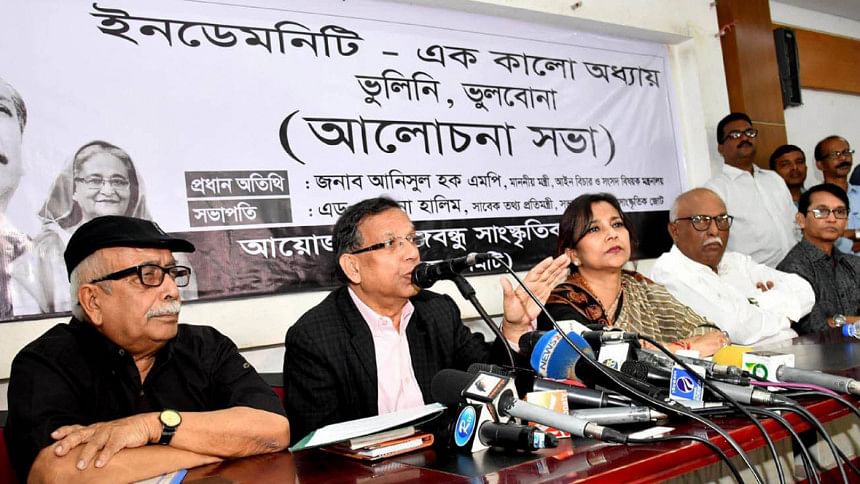 The government has taken zero tolerance policy against the casino and gambling, Law Minister Anisul Huq said today.
"Prime Minister Sheikh Hasina has the courage to capture the offenders whoever they are or which party they belong," he said while talking about the ongoing drives against casino and gambling.
The law minister was speaking as chief guest to a discussion on "indemnity-a black chapter -- we have not forgotten and will not forget" organised by Bangabandhu Sanskritik Jote, a cultural organisation, at Jatiya Press Club.
The BNP men are seen to be much vocal about casino now, although they cannot dare to expel those who embezzled the money of the orphans from the party.
"You (BNP) cannot scold their leader who is absconding in abroad after giving an undertaking for committing corruption. All of your party are involved in corruption," he said pointing his finger to BNP.
The law minister added that only Prime Minister Sheikh Hasina can take action against the corrupt and make Bangladesh free from corruption.
"As Sheikh Hasina abides by the rule of law, she has proved that the Indemnity Ordinance is a black law. She has taken necessary steps for holding the trials of the killings of Bangabandhu Sheikh Mujibur Rahman and four national leaders and the war criminals. We have seen that the trials of all criminal cases have taken place during the regime of Sheikh Hasina," Anisul Huq said.
Former state minister for information Tarana Halim presided over the discussion where actors Eanamul Haque, Azizul Hakim, Reaz, Amirul Haque Chowdhury and Mannan Hira also spoke.