Over Tk 1 crore seized from Salim's house, office
Salim, his chief personal assistant and 2 others jailed for 6 months
Members of Rapid Action Battalion (Rab) have seized Tk 1.05 crore and bottles of liquor during a raid at Banani house and Gulshan office of online casino businessman Salim Prodhan.
The law enforcers conducted the raid this afternoon a day after Salim Prodhan was arrested from Dhaka's Hazrat Shahjalal International Airport around 3:30pm yesterday on charges of running an online casino in Bangladesh and money laundering.
Around Tk 21 lakh was recovered from Salim's house at Banani road No. 2 while foreign currencies of different countries worth about Tk 77 lakh and Tk 7 lakh in cash were recovered from his Gulshan-2 office, Rab-1 Commanding Officer Sarwar Bin Kashem said in a press conference this afternoon.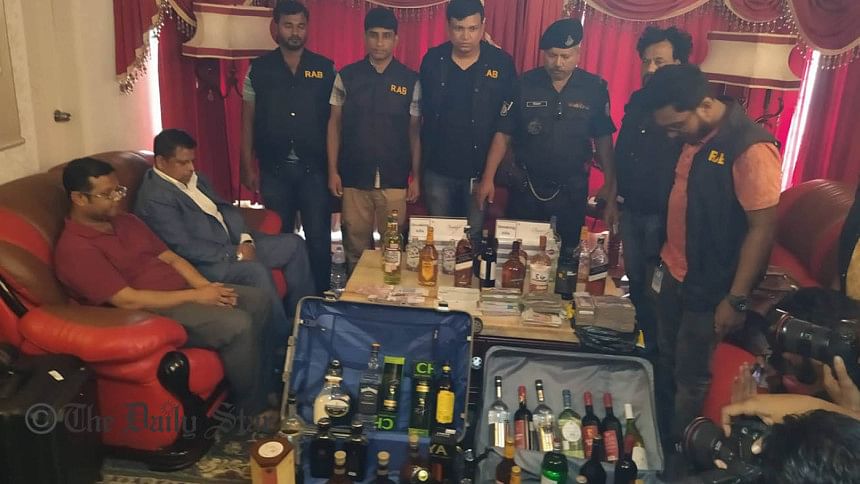 During the raid, the Rab members also recovered a total of 41 bottles of foreign liquor, 12 passports and others valuables including laptops and technical equipment, the Rab official said.
Salim's chief personal assistant Akhtaruzzaman and office assistant Roman were also arrested from the Gulshan office during the 10-hour long raid that ended around 6:00am, according to Rab-1 CO Sarwar.
Meanwhile, a mobile court of the Rab found deer skin in Salim's Gulshan office and sentenced him and three other arrestees to six months in a case filed under Wild Animals Preservation Act.
Two other cases -- one under money laundering prevention act and another under narcotic control act -- will be filed against Salim and his two associates, he said.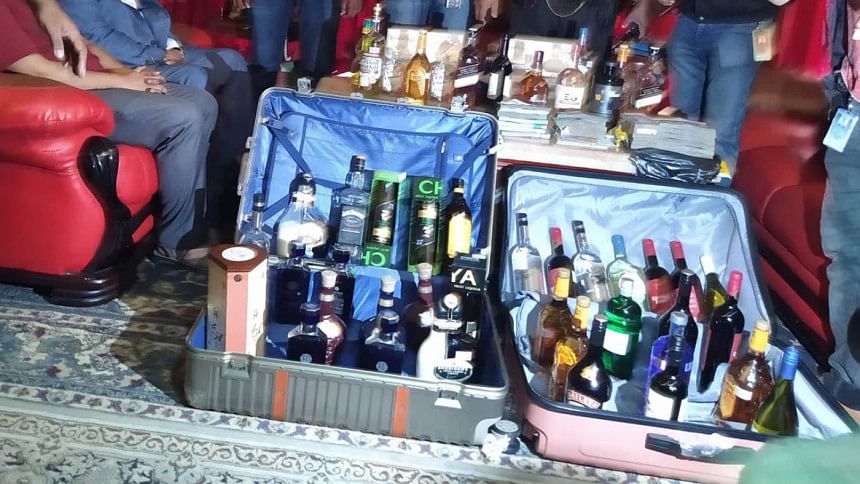 The Rab team along with Akhtaruzzaman started drive at Salim's Banani house around 12:30pm and recovered Tk 21 lakh in cash from there, the Rab official added.
The elite force also seized some foreign currencies including US dollars and Malaysian Ringgits worth about Tk 77 lakh from Salim's online-based gambling office "P24 Gaming" in Gulshan-2.
The raid was conducted after Salim gave confessional statement following his arrest, according to Rab.
During primary interrogation, the businessman also confessed that he introduced the online-based casino business in 2018 with the help of a North Korean citizen.
"P24 Gaming" was being run under Prodhan Group, which is a business conglomerate founded by Salim Prodhan in 2006.
Prodhan Group's overseas office is located at Si Racha of Chon Buri in Thailand.
Salim, 38, also chairman of Japan Bangladesh Group, was awarded CIP status by the Bangladesh government.