Dhaka's unclean water bodies intensify mosquito menace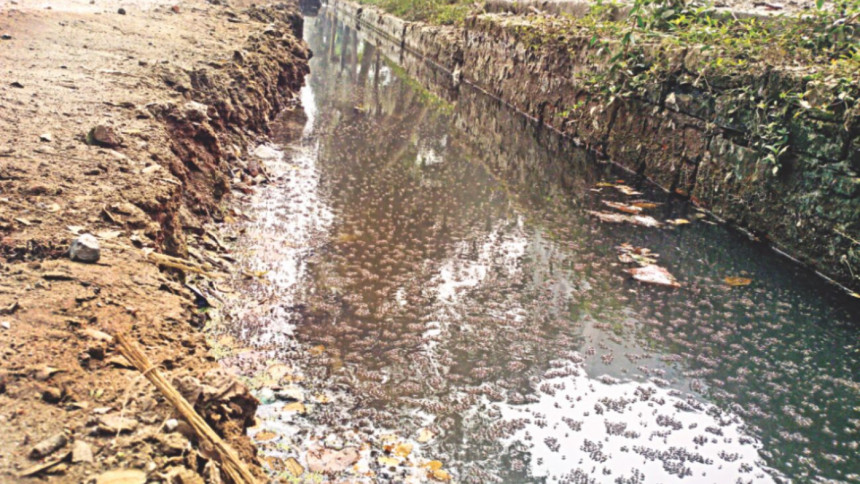 As both the city corporations have failed to clean the water bodies in time, many parts of Dhaka have been facing a severe mosquito problem since the beginning of winter.
The problem is particularly acute in Mirpur-11, Pallabi, Gendaria, Mohammadpur, Kamrangirchar, and the secretariat staff quarters and adjacent areas.
"I have to use the mosquito net from the evening...because the repellent coils cannot kill the insects properly," said Emran Alam, a resident of Adabar of Mohammadpur.
In Gendaria, the lone pond has its surface covered with water hyacinths in the last one year, making itself a fertile ground for mosquito breeding.
Authorities said they would clean the water bodies soon.
"We are in the middle of a process to invite bids for cleaning water bodies," said Chief Health Officer of Dhaka South City Corporation (DSCC) Brig Gen Mahbubur Rahman.
He hoped that the cleaning would start this month.
Mahbubur said there were 569 bighas of water bodies in DSCC, which needed to be cleaned.
DSSC is spraying malaria oil-B in the water bodies as a temporary measure, he  added.
"Though we have failed to clean the water bodies so far, our routine mosquito control drive is going on," he said, adding that they conducted two drives in October and November.
Mahbubur said they had made a map of breeding grounds of Culex mosquito, which serves as the vector of  several diseases. He said they divided the whole area into three zones -- red for high infestation, yellow for moderate infestation, and green for low infestation.
Seeking anonymity, an official of Dhaka North City Corporation (DNCC) said they would clean the water bodies soon and then start spraying larvicide and adulticide in them.
DNCC will keep spraying adulticide in two wards at a time over one week, and in this way all areas will be covered, he said.
The official said there were 2,276 bighas of water bodies in DNCC, of which 1,200-1,300 bighas needed cleaning.
Chief Health Officer of DNCC Dr SMM Saleh Bhuiyan said they were conducting regular anti-mosquito drives in the breeding grounds, but they might face problems in cleaning the water bodies which were owned privately.
DENGUE
Over the last nine years, the number of dengue attacks was the highest in 2015. Experts blamed long periods of intermittent rains and high temperatures for the rise in cases.
According to the Directorate General of Health Services (DGHS), 3,101 dengue cases were detected in 2015, 375 in 2014, 1,713 in 2013, and 671 in 2012.
The death toll from dengue fever was six in 2015, nil in 2014, two in 2013, and one in 2011.
Saif Ullah Munshi, associate professor of virology at Bangabandhu Sheikh Mujib Medical University (BSMMU), said, "Mosquito larvae should be destroyed in April-May before the start of monsoon to control its breeding early."
DSSC Chief Health Officer Dr Mahbubur said they would continue awareness building campaigns about Aedes aegypti mosquito, the carrier of dengue virus, because it bred in fresh water.
The campaigns will involve schools, mosque imams and ward councillors, he added. DSCC will control the breeding of the mosquito this year to prevent the rise of dengue cases.
The first case of dengue was reported in the country in 2000, and at least 98 people died from the disease between 2000 and 2003, according to DGHS data.