Prime suspect held over Wari girl's murder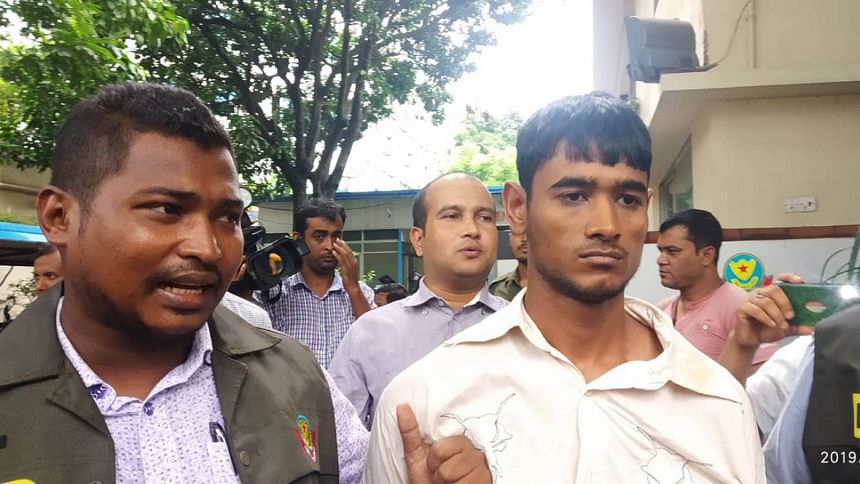 Detectives claimed to have arrested the prime suspect in a case filed over the rape and murder of seven-year-old Samia Afrin Saima in Wari of Dhaka on Friday.
Tipped off, a team of detective branch (DB) of police arrested Harun-ur-Rashid from Dabarbhanga area of Cumilla around 11:30 pm today, Abdul Baten, additional commissioner of DB, told The Daily Star. 
After the arrest, detectives, at a press conference at DMP media centre this afternoon, divulged details the horrifying Friday's gruesome murder in a hose in Wari area.
"He [Harun] killed the girl after the rape to hide the identity and fled to his village house in Cumilla," said Abdul Baten, additional commissioner of detective branch of Dhaka Metropolitan Police.
PROTEST
The students of the victim's school, their guardians and teachers staged demonstration in the morning demanding capital punishment of the killer.
The school and nearby streets in Wari reverberated with slogans "we want justice", "we want capital punishment" and marched towards Wari Police Station, braving the rain.
They also staged a sit-in in front of the police station and handed over a memorandum to its officer-in-charge.
"How do we feel secure when the life of a six-year-old girl like Saima is not safe in the society… This type of crime will continue if the perpetrators go unpunished," said a student of the school.
"We want capital punishment of the killer. We want strict steps to prevent such brutality. We want to grow up without fear," said a class-IX student.
Citing Tonu murder in Cumilla, Nusrat Jahan Rafi murder in Feni, another student said the culture of impunity of rape incidents are leading to recurrence of such incident.
"We even fear to walk on the streets. We want people to treat us as a human being, not as girls," she said.
An eighth-grader said, "We have no security even in our houses. Children are being sexually harassed and raped one after another… When do we get a society that is secured for girls?"
Saidur Rahman Sarker, headmaster (High School section) of the school, said such brutes should be given capital punishment through the trail.