Wari girl raped before murder
Forensic tests show; 6 held; culture of impunity, moral degradation blamed for rising rape incidents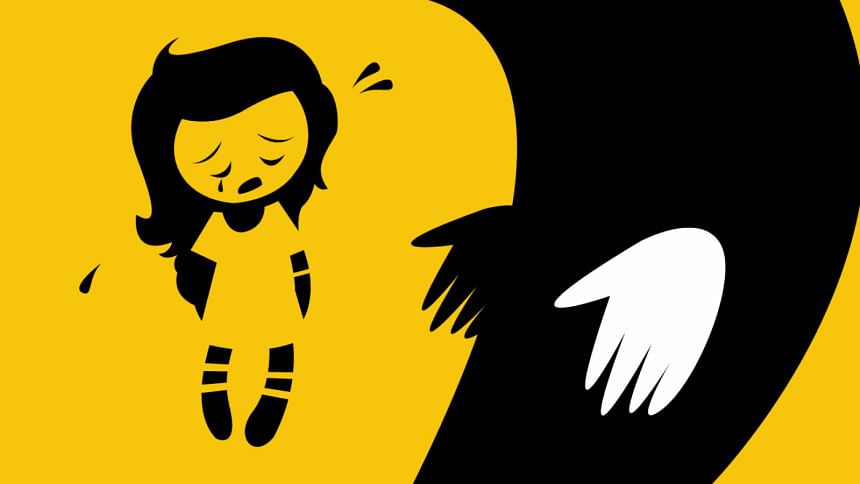 A culture of impunity and degradation of moral and social values are among the main reasons why rape incidents are rising, eminent sociologist Prof Mahbuba Nasreen has said.
Other factors include easy access to internet and a lack of awareness among the people in general about the crime, she told The Daily Star last night when asked to give her insights into the rising rape incidents in the country.  
Forensic examinations yesterday confirmed that the Wari victim, Samia Afrin Saima, was raped before she was killed. The body of the seven-year-old was found on Friday in an empty flat of the building her family lived in.
"Test results and other examinations confirm that the victim was raped and then strangled with a rope," Sohel Mahmud, head of forensic medicine at Dhaka Medical College Hospital, told journalists.
Her body bore some injury marks, he said, adding that they collected DNA and other samples for further examinations.
Incidents of child rape have increased alarmingly in the country recently.
At least 496 children have been raped in the first six months of this year across the country, said Bangladesh Shishu Adhikar Forum (BSAF), a platform of non-government organisations working for child rights.
Of them, 53 were gang-raped and 23 murdered after rape. Twenty-seven of the victims are physically challenged.
During the same period last year, 351 children were raped, the BSAF said in its report on July 2.
The platform prepared the report based on reports published in 15 national dailies between January and June and termed the rise in rape incidents "very alarming".
According to Prof Nasreen, children are most vulnerable as they are unable to resist and can be easily intimidated by the perpetrators.
"Children don't get equal protection in the stratified society like ours. So parents and community people should be more conscious and the government must take punitive actions against the offenders," she said.
The suspected rape and murder of Samia shows how vulnerable children are. A nursery student at a local school, she had gone out of her home around 6:40pm on Friday to play with other kids, family members said.
But as she did not return even well into the evening, the family started looking for her.
"We looked for her in every flat, but did not find her," said her father Abdus Salam, a businessman.
The search went on for about one hour and then the family went to the rooftop.
Once they went inside the empty flat on the top floor, they found her blood-stained body on the kitchen floor, with a rope around her neck.
"I can't even imagine who could do such a cruel thing. I don't have any enemy. I want exemplary punishment to the killers," said Salam, who filed a case in this connection.
Police detained six people, including the security guard and three youths who rented a flat on the sixth floor just this month, for interrogation, police said.
"A child is not safe even in her building. What society is this?" asked Jaynab Begum, a shocked neighbour.
Locals are planning to organise a protest in the area today.