Decentralise power
Advises Mel Senen Sarmiento, three-time mayor of Calbayog city in the Philippines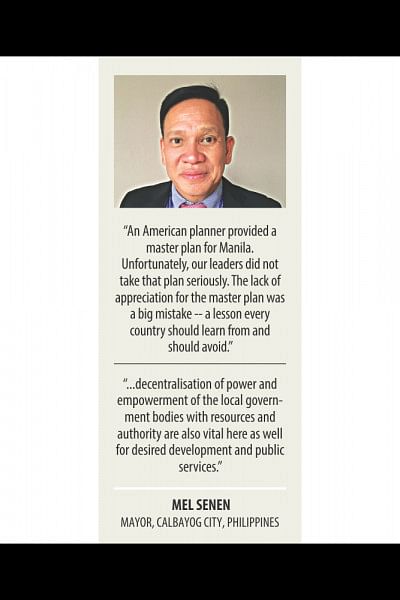 Calbayog -- a city in Samar province of the Philippines -- was recognised as the country's cleanest and second most peaceful city. The man behind this achievement was Mel Senen Sarmiento, the city's mayor from 2001 till 2010. 
The Daily Star met Mel Senen for an exclusive interview while he was attending a World Bank-sponsored international conference in Dhaka on October 28 and 29. 
During the interview, the successful mayor of three consecutive terms shared his views on possible steps for planned urbanisation in Bangladesh.
Mel Senen's popularity as a city mayor paved the way for his becoming a member of the Philippine House of Representatives from 2010 to 2016. He later served briefly as a secretary (minister) of interior and local government. Also, from 2004 to 2010, he was secretary general of the League of Cities of the Philippines.
Notable excerpts from his interview are as follows:
It's a cliché that failing to plan is planning to fail. 
Prior to passing the 1991 local government code, our government used to be very centralised and it was unable to meet aspirations of a hundred million people. So, there were brewing public grievances.  
Manila was as devastated as Warsaw in Poland after the Second World War. It [the devastation] however gave us an opportunity to rebuild our city.
An American planner provided a master plan for Manila. Unfortunately, our leaders did not take that plan seriously. The lack of appreciation for the master plan was a big mistake -- a lesson every country should learn from and should avoid.
So, from power to water supply to storm drainage system, it's very important to plan. Remind everybody here to be guided by the master plan. It is very important. It should be a lesson here in Dhaka that everyone should remain aware that there is a plan. 
There are two city corporations involved in Dhaka city, but make sure you have only one plan to ensure everything is harmonised and done holistically.
Philippines central government was basically micro-managing the country. Our economy was going down terribly. Centralised form of government could not deliver desired public services. Suddenly we woke up in the late 80s.
In the mid 1980s, the central government realised that it would be very hard for the central government to run day-to-day affairs of the country and the mayors should not be kept as branch managers without power.
In 1987, President Corazon Aquino approved an executive order for empowerment of mayors... and subsequent passing of the 1991 local government code amply empowered the local government authorities on delivering basic services of healthcare, social welfare, agriculture and environment and people's empowerment.     
Decentralisation started with the new law, providing automatic allocation of 40 percent of the national budget to local governments. The allocation could not be withheld by the government, nor could it be debated in the parliament.
Because resources are allocated automatically to the local public representatives, we, as mayors, were empowered to accomplish in three years what our national leaders were unable to do for decades.
So, decentralisation of power and empowerment of the local government bodies with resources and authority are also vital here as well for desired development and public services.   
The mayors in the Philippines were authorised to borrow money from finance institutions like World Bank or any other with the local bodies to repay the debt with at best 20 percent of their annual budget.
Except currency, the Philippines mayors take care of almost everything of a citizen -- from all the day-to-day services to transport and education. 
If need be, a mayor has to do some unpopular jobs in the public interest. For example, the urban renewal programme during my tenure was challenging, but once it was done, people were happy. Even my opponents turned into my supporters and they re-elected me.
It is very important to empower the mayors so that the central government can focus on more important issues like the overall economy of the country, foreign policy, defence, etc. 
I, as the mayor, came up with a roadmap. We first consulted the local people on the city development strategy and we drew up the roadmap that our city would be built as an economic centre by 2015.
We invited all the stakeholders. And we asked our people what they foresaw our city to be like in the next 15 years. We invited everybody to make it inclusive. After we got all the inputs, we heard from professional groups -- urban planners and marine biologists -- to draw up the plan.  
We had specific schemes and targets to convince the finance companies. Ninety-five percent of the projects and programmes have been accomplished. It was the people's vision, I was merely a facilitator.   
There are challenges, but a leader has to remain consistent. Consult with the people on city planning.
We have a local planning office under the mayor's office to make the master plan. All local government bodies have to have a planning office. Besides, local government authorities have the power to hire professional consultancy firms to help draw up the plan.
There is an authority called Water District, independent of local government, to take care of clean water supply and sewerage system.                 
There is also a local development council, one-fourth of which is comprised of [members from] the private sector. It even includes fishermen, small vendors, teachers, academics and professionals to ensure that the interest of one individual does not end up as the deciding factor in decision making.
I focused on development and not much on politics. Sell the prospect of your city to investors and connect with other cities for trade and business.
Earlier, it took months for a businessman to get a permit. We installed a system to issue a business permit in 30 minutes. It used to require 22 officials to sign a business permit -- taking months altogether. We brought it down to only two -- sitting in one office under camera surveillance and with no drawers underneath their tables.
While the Philippines national police are under the central government, there is a Peace and Order Council, chaired by the mayor. If there is a law and order issue, the mayor can complain. To discipline an erring police officer, the mayor can set up a people's law enforcement board where ordinary people are the members.
This is a forum where people can complain about a police officer abusing his or her power.
We put emphasis on the bankability, liveability, fast track investment, transparency and good governance in our city. Good governance is very important. Leading a city in a participatory manner and making the process inclusive is good governance.