Going home for Eid, a risky move, says Tofa, Tahura's father, doctor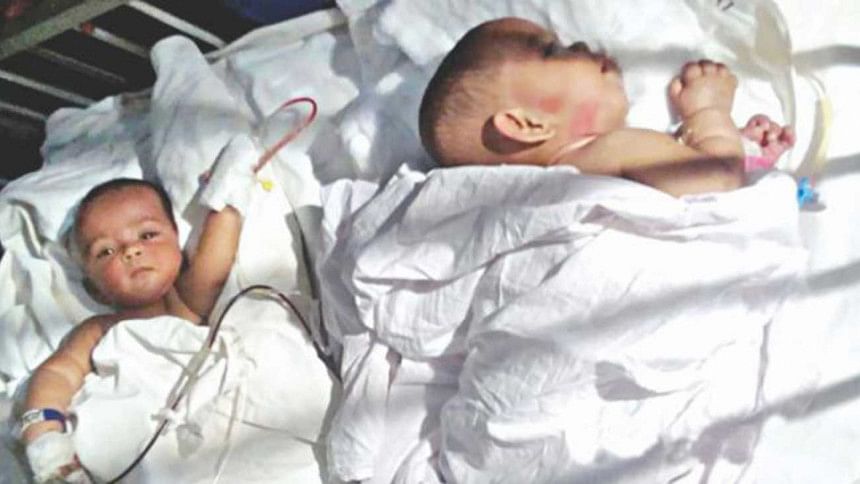 Father of conjoined sisters Tofa and Tahura, who were separated on August 1 in a pioneering surgery at Dhaka Medical College Hospital, is feeling uncertain about returning home in Gaibandha before Eid-ul-Azha with the twins.
Read More: Conjoined twins separated
Even though Raju Miah, the father, first wanted to return home for Eid, he is now uncertain as their area is inundated following the flood affecting many northern and north-eastern districts of the country.
"I am worried taking them home during this rush hour as it may put the twins at risk and I am not sure if I should do that," Raju Miah told our staff correspondent who visited the family at DMCH yesterday.
Doctors too echoed similar concerns.
"Although we wanted to release them before Eid now we are reconsidering the situation. As complication may arise due to hectic journey amid the Eid rush and flood situation at their home district," Shahnoor Islam, associate professor of paediatrics surgery at DMCH, told The Daily Star.
The hospital has taken great measures to ensure Tofa and Tahura are not exposed to the risk of infection, the father said adding that if they would be taken to the village home, there will be many visitors and the journey home as well will put them at a risk of infection surely.
"I am a poor farmer and I asked my brother to plant some paddy on 15 decimals of land when I travelled to Dhaka with the twins for their surgery on July 15 but the floods washed everything away," Raju said.
"There is also uncertainty whether we will get access to clean water or right treatment if there is an emergency in the village with the twins," the father said.
"And even though the hospital is bearing all costs, there are some minor costs (such as mobile bills, cost of traveling for family members who are coming to visit the twins) that I am finding hard to bear," he said.
After a nine-hour operation on August 1, doctors at the DMCH successfully separated the 10-month-old twin sisters conjoined at the waist.
A 30-member medical team of the hospital comprised of doctors from different departments including anesthesia, burn and plastic surgery, orthopedics, neurosurgery, urology and radiology took part in the operation.
Daughters of Shahida and Raju Mia from Gaibandha, the twins were believed to have been suffering from a medical condition called 'Pygopagus' in which two individuals were joined at the buttocks.