Conjoined Twins: Seperated, Tofa, Tahura doing well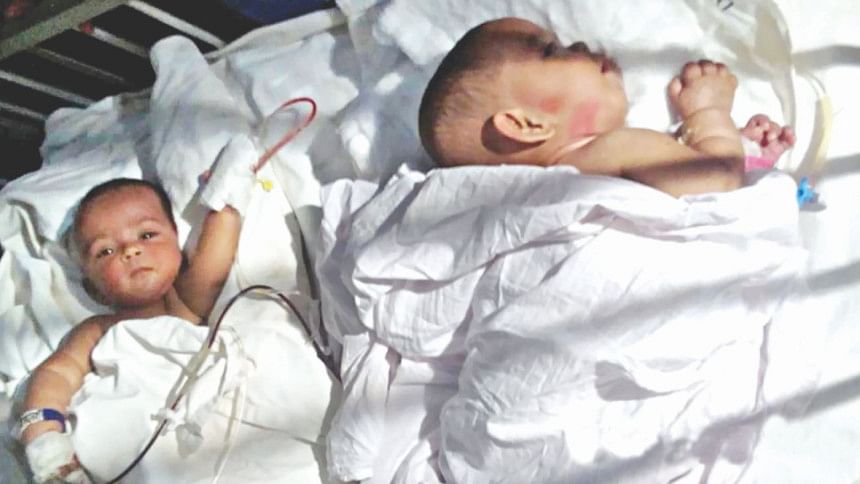 Tofa and Tahura, the 10-month-old conjoined twins from Gaibandha, are doing well after they were separated in a marathon surgery in Dhaka on Tuesday, say doctors.
The girls' mother Shahida Begum breastfed them, Shahnoor Islam, associate professor of paediatrics surgery at Dhaka Medical College Hospital (DMCH), told The Daily Star yesterday.
Shahida said for the first time she breastfed them separately on her lap.
Before, she had to hold the babies on her lap together whenever any of them needed to breastfeed.
Though they are 10 months old, they do not walk or crawl which their elder brother did when he was nine months old as they were conjoined twins, said Shahida, adding that she wants to see Tofa and Tahura walk and play soon.
Meanwhile, in a press briefing at the DMCH conference room yesterday, doctors said they would be able to say whether the twins were out of danger today.
They would be kept at the post-operative care for 10 days for close observation, Shahnoor said.
DMCH Director Brig Gen Mizanur Rahman and some doctors, including Shahnoor, who took part in the nine-hour surgery addressed the briefing. 
Conjoined twins are identical twins joined in the mother's womb. It is an extremely rare phenomenon. Two babies joined at the pelvis are even rarer. Doctors say such cases are called pygopagus conjoined twins.