Bringing together all strands of folk genre
Srabonti Sarker inherited the love for folk literature from her parents-- mother, to be precise.
"While my mother was alive, we used to read books on rural life," recalls the ninth grader of Shiddheswari Girls High School. "I still cherish the habit."
Not only was her mother an admirer of folk tales, her father has been an avid reader of this genre.
When this writer caught up with her father Swapan Sarker, the retired engineer refreshed some old memories.
"I love reading the poetry of my favourite poet Jasim Uddin. His language pleases my heart," he said. "While I was in school, I won a recitation competition by performing his poem Kabor (grave)."
Swapan was seen buying Suchayani, a collection of poems by the Palli Kabi (folk poet), for his daughter.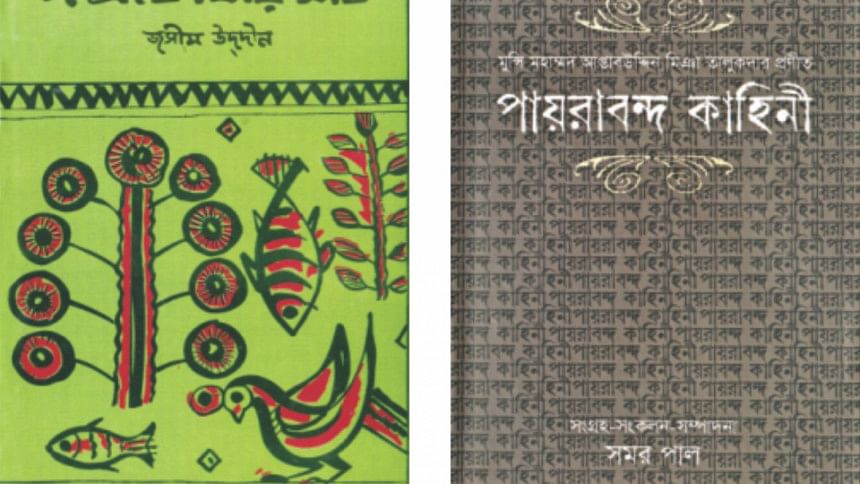 The love for this literature inspired Srabonti towards enrolling in the humanities group while the teachers advised her to study science because of her analytical power, she said. "I pass my times with father, my only companion, drowning in the sea of our rich literature," the girl smiled.
For people like Srabonti, the Amar Ekushey book fair brings together all strands of the folk tradition, and in the era of social media, many Srabontis were seen searching for the works of this literature at the fair yesterday.
Though Jasim Uddin is no more today, Palash Prokashani, the publication house the poet founded in 1960, presents his works to the readers, from its stall at Suhrawardy Udyan.
The poet's son, Khurshid Anwar Jasim Uddin, is now running the publication house.
The stall introduces the new generation to his literary masterpieces including the poetry books "Nakshi- Kathar Math" (The field of the embroidered quilt), "Dhankhet" (Paddy field), "Rakhali" (Shepherd), and "Sojan Badiyar Ghat" (Gypsy wharf).
The poet also wrote some popular songs, plays, novels, memoirs, and travelogues.
Highlighting the importance of folklore, Khurshid Anwar said, "Estranged from our secular folk literature, some youths are choosing the path of extremism."
He hoped the country would produce more Jasim Uddins and folk traditions would be patronised.
Bangla Academy has a large collection of books on folklore. The academy published books on the folk traditions of 57 districts, drawing large crowds every day. People were seen collecting the book which describes the folklore and history of their district. 
"We all should know our own folk literature besides the world literature to fulfil our literary palate," said Arif Raihan, a medical intern of Dhaka Medical College, who collected "Bangladesher Lokojo Samskriti Granthamala: Jessore."
Rajib Kumar Saha, an officer of Bangla Academy, said more than 200 books of the series were sold daily.
Some books on folklore arrived the fair, including "Saidur Rahman Boaati: Sadhoker Sadesh O Samogra" by Najmin Mortuza, and "Payraband Kahini", a collection of "Puthi" literature of Rangpur by Munshi Mohammad Aftabuddin Miyan Talukder, edited by Samar Paul.
"Maimansingha Gitika", edited by Dinesh Chandra Sen, which consists of popular narrative ballads of greater Mymensingh, was selling well at Mowla Brothers stall, along with the fifth part of "Pronomohi Bangamata" by Saymon Zakaria.
Referring to the country's rich folk literature, writers expressed disappointment over lack of interest of the publishers.
An assistant director of Bangla Academy, Zakaria said, "Our rich folk literature is neglected from primary to higher education though foreigners admire it. No one wants to evaluate the research on the life of our farmers or fishermen. Publishers are not interested in these books."