Quota demo: 'BCL men' assault DU students, teachers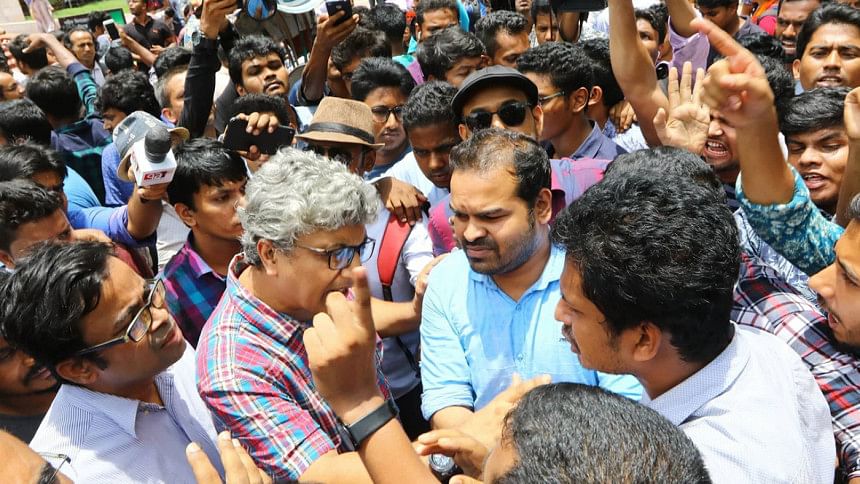 A group of Bangladesh Chhatra League (BCL) activists today assaulted some students and teachers of Dhaka University and foiled their human chain programme demanding immediate release of the quota reformists who are now in jail.
Protesting the attack, Pragatisheel Chhatra Jote, an alliance of left-leaning student organisations, blocked Shahbagh intersection for 20 minutes, our DU correspondent reports.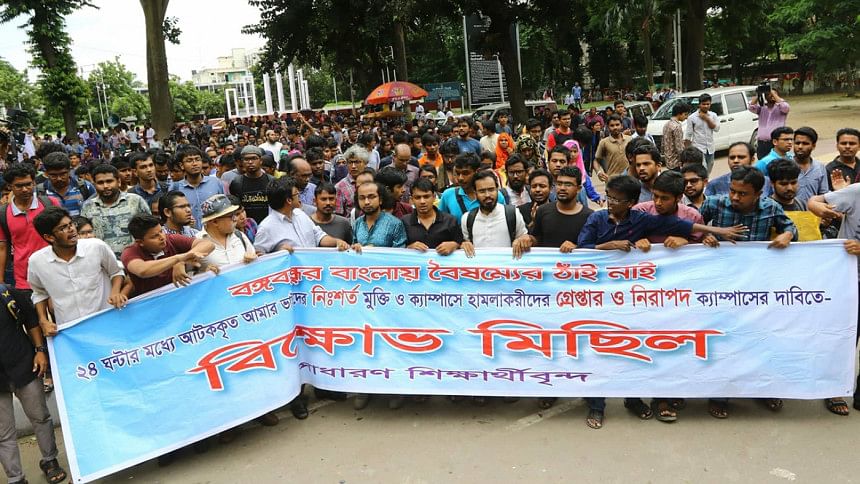 A group of BCL leaders and activists made the attack on the procession brought out by the students and teachers in Shibbari area of Dhaka University 12:30pm, said witnesses and students.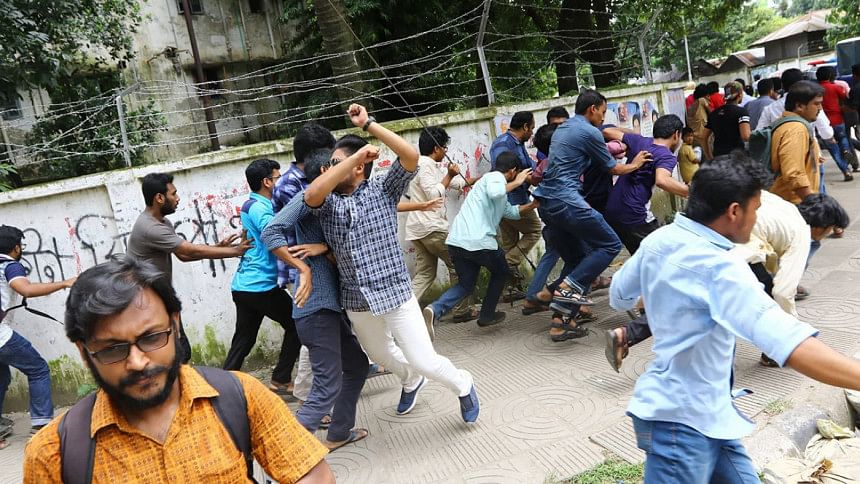 "The BCL activists obstructed us from holding our scheduled human chain programme in front of at Central Shaheed Minar when we were going towards Raju sculpture in procession," said Fahmidul Haq, associate professor of Department of Mass Communication and Journalism of DU. 
When the procession reached at Shibbari, a group attacked the procession, he said.
At one stage, Sayem, organising secretary of BCL Salimullah Muslim Hall unit, tried to vandalise the video camera of a TV journalist and snatched his mobile phone as he was filming the incident, witnesses said.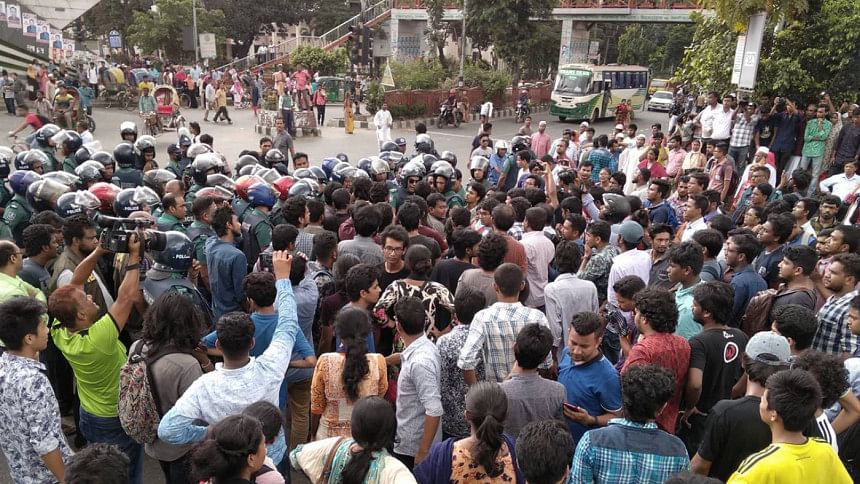 When asked about the attack, DU Proctor AKM Golam Rabbani told journalists that a proctorial team, on information, rushed to the spot but no one came to assist the team.
He also said the university administration will take action against those who were involved in the chaos.   
Meanwhile, students of DU Sociology department formed a human chain in front of the department at noon, demanding the unconditional release their fellow student Moshiur Rahman, who is now jail.
The participants at the human chain covered part of their faces with black clothes as a sign of their protest.
A Dhaka court yesterday sent three leaders, including Moshuir, of the quota reform movement to jail on completion of their two-day police remand.
Jashim and Moshiur were shown arrested in a case filed for the attack on the Dhaka University vice-chancellor's residence and Faruk was shown arrested in another case filed for attacking police and vandalising vehicles during the quota movement on  April 9.
Earlier in April this year, students of public and private universities across the country took to the streets demanding reforms in the quota system.
In the wake of their protests, Prime Minister Sheikh Hasina in parliament on April 11 announced that the quota system will be abolished.
After the government's failure to issue a gazette notification to that end, the quota reform platform on May 14 started an indefinite boycott of classes and examinations at all universities and colleges.
They also issued an ultimatum for publication of the gazette notification by May 13.
On May 21, they postponed their decision of boycotting examinations considering the month of Ramadan and possible "session jam" caused by the strike.
However, on June 26, the PM suggested continuation of the existing freedom fighter quota in the civil service.
In a latest development, the prime minister on Thursday in parliament said it is not possible to reform the freedom fighters' quota in public service due to a High Court verdict.