Mainul to get first class division facilities in jail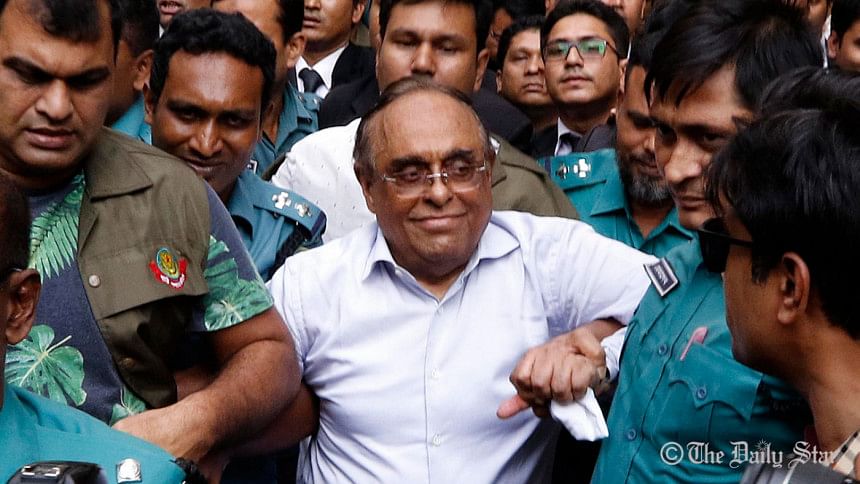 The High Court yesterday directed the government to immediately give first class division facilities to Barrister Mainul Hosein in jail.
The court also issued a rule asking the authorities concerned to explain why denial of the facilities to Mainul should not be declared illegal.
The bench of Justice Sheikh Hassan Arif and Justice Razik-Al-Jalil issued the order and the rule following a writ petition filed by Mainul's wife Saju Hossain.
Mainul will get a separate room, a bed, a table, a newspaper and some other facilities in jail following the HC order.
His wife submitted the petition to the HC on Sunday, saying that Barrister Mainul is a former member of parliament, adviser to a former caretaker government, former president of Supreme Court Bar Association, and member of the constitution drafting committee. But the jail authorities are not giving him the division facilities, she wrote.
During the hearing on Sunday, Dr Kamal Hossain and Advocate Khandker Mahbub Hossain appeared for the petitioner.
Attorney General Mahbubey Alam opposed the petition. He said Mainul Hosein should have applied to the magistrate's court concerned seeking division facilities.
Barrister Mainul was arrested in the capital's Uttara on October 22 in connection with a defamation case filed in Rangpur for slandering journalist Masuda Bhatti on a television programme, said his lawyer Advocate Masud Rana.
Mainul has been accused in 18 cases in this connection so far, he added.