Charges against Mainul accepted
HC orders health checkup; seeks report by Dec 6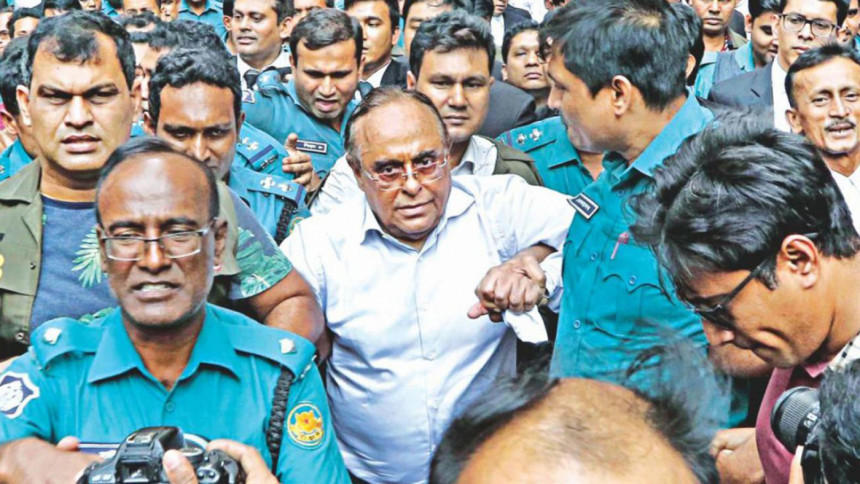 A tribunal in Dhaka yesterday accepted charges in a case filed against Barrister Mainul Hosein under Digital Security Act over defaming journalist Masuda Bhatti during a television talk show on October 16.
Judge Ash Sams Joglul Hossain accepted the charge sheet submitted by police on November 4, after scrutinising the case dockets and other relevant documents.
The tribunal also fixed January 3 next year for further hearing on Mainul's bail petition in the case.
Earlier on October 24, Sumona Akhter Lily, member of Awami League's Youth and Sports sub-committee, filed the case against Barrister Mainul for defaming the female journalist.
On October 22, detectives arrested the former caretaker government adviser from the capital in a case filed in Rangpur district. A Dhaka court sent him to jail the following day.
Masuda Bhatti also filed a case against him. Currently, Mainul is facing 19 cases.
Meanwhile, the High Court yesterday directed the authorities to produce Barrister Mainul before a medical board at Bangabandhu Sheikh Mujib Medical University for his health check-up.
The court also asked the authorities to submit the reports before it by December 6.
The High Court bench of Justice Syed Refaat Ahmed and Justice Md Iqbal Kabir passed the order after hearing a petition filed by Mainul's wife Saju Hosein seeking necessary order on the authorities in this regard.