Learn from EVM-related mistakes
CEC to election officials ahead of upazila polls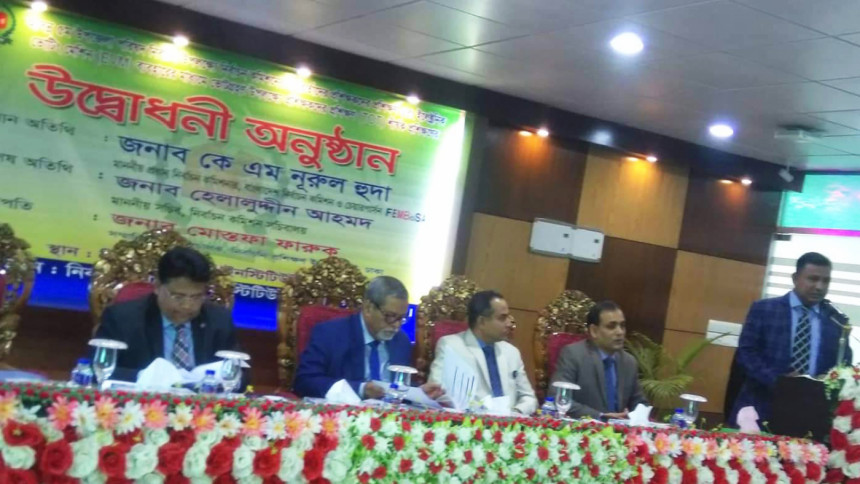 Chief Election Commissioner (CEC) KM Nurul Huda yesterday asked the election officials to take lessons from the polls-time mistakes while using Electronic Voting Machine (EVM) during the December 30 national election and be prepared for the upcoming upazila elections.
There were issues in some places where EVMs were used during the general election, the CEC said while addressing a training programme in Dhaka yesterday.
The programme was organised for trainers of election officials and on voting through EVMs at the Electoral Training Institute (ETI) in the capital's Agargaon.
Since EVM is a fairly new means for voting, people will be confused if any error occurs, the CEC said, and advised election officials to participate in the training attentively.
The first phase of the upazila polls is set to be held on March 8 or 9. The Election Commission (EC) will hold a meeting on February 3 to finalise the election date.
The last phase of the five-phase polls would be held after the Ramadan, which will likely begin on May 5.
EC sources said they were planning to hold the second phase of the election on March 18, third phase on March 24, and fourth phase on March 31.
The fifth upazila polls will be held in 480 out of the 492 upazilas, said EC officials, adding that over Tk 500 crore would be required to hold the polls.
DNCC BY-POLLS: 6 SUBMIT NOMINATION FORMS
Six aspirants submitted their nomination forms for Dhaka North City Corporation (DNCC) mayoral by-polls, returning officer Abul Kashem said.
The deadline for nomination submission was yesterday, and 26 aspirants collected nominations papers, he said.
Aspirants submitting nomination forms yesterday are: Awami League's Atiqul Islam, Jatiya Party's Shafin Ahmed, National Democratic Party's Boby Hajjaj, Pragatishil Ganatantrik Party's Shahin Khan, National People's Party's Anisur Rahman and independent candidate Abdur Rahim.
DNCC mayoral by-polls as well as election to councillor posts in 36 new wards – 18 each under Dhaka north and south city corporations – will be held on February 28. Last date of withdrawal of candidature is February 9.
EC officials said that 167 candidates submitted nomination papers for ward councillor posts for DNCC and 158 candidates for DSCC.
PETITION SEEKS STAY ON DNCC BY-POLLS
Meanwhile, a writ petition was filed yesterday by Advocate Eunus Ali Akond, challenging the legality of holding Dhaka North City Corporation (DNCC) mayoral by-polls and election to councillor posts on February 28.
The petitioner argued that as legal tangles over demarcation of many wards of the two city corporations have not been resolved, the by-polls will be "illegal".