Onion markets see low turnout of buyers
The wholesale onion markets in the capital today saw the low turnout of buyers as the price of the daily essential has gone beyond the purchasing capacity despite the government's mechanisms to cool down the overheated market.
The similar situation was seen in the retail markets in Dhaka, our correspondent reports visiting different wholesale and retail markets.
Abdul Momen, a wholesaler of Kawran Bazar, said he usually sells six to seven tons of onion every day but today he could not sell a single kg of onion till 7:00 pm due to skyrocketing price spiral of the cooking ingredient.
Yesterday, onion was sold at Tk 240 per kg in the wholesale markets while the cooking ingredient was sold at Tk 220-230 a kg today, he said.
Besides, the partially rotted onion is being sold at Tk 100 per kg at the market, he said.  
Many other wholesalers in Karwan Bazar, Shyambazar and Mohammadpur shared their similar experience.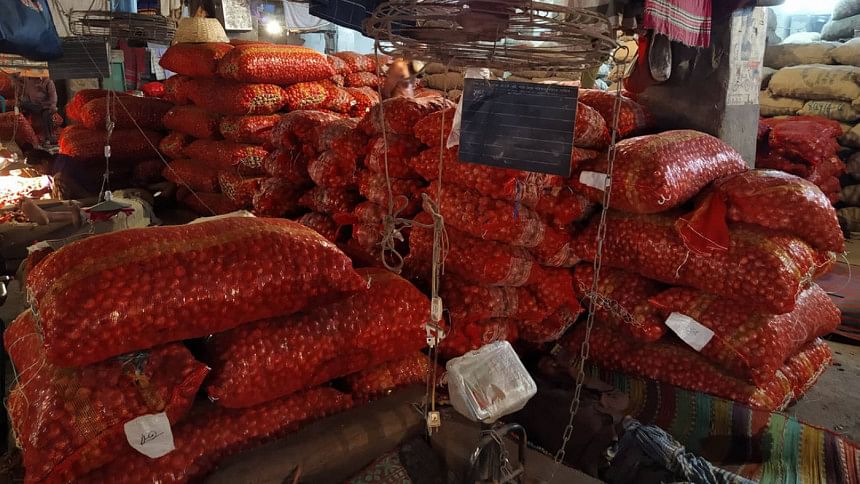 While talking to the correspondent, two onion retailers in the city's Nakhalpara area, said they sell at least 60-70 kg of onion every day. But they sold only five to six kg at Tk 250 rate today, he added.
People have reduced their habit to cook food with onion drastically because of the record high price, one of the retailers said. "I got some consumer who bought 100gm, 200gm and 250gm onion," he added.
Many retailers at different kitchen markets in Shukrabad, Mohammadpur, West Kazipara and Shewrapara said they have stopped selling onion for the skyrocketing price.
The government yesterday decided to fly in onion from abroad next week in a bid to pull reins of the onion price.
Earlier in the day, Prime Minister Sheikh Hasina said onion-loaded cargo planes were expected to reach the country in next one or two days to contain its abnormal price hike.