7.5% VAT on English medium school tuition remains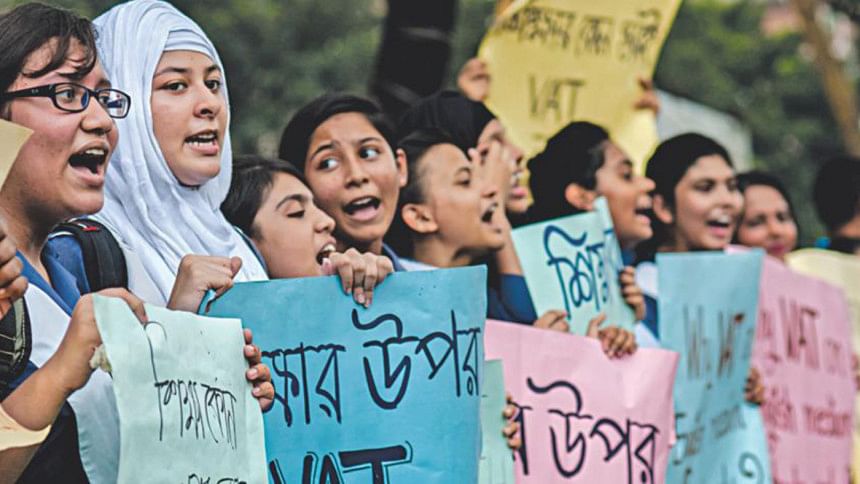 -- Students have to pay the VAT, AG says
-- SC stays HC order that halted the VAT
-- HC stayed the VAT last month amid demo
The Supreme Court today stayed a High Court order that halted the 7.5 percent value added tax (VAT) on the English medium schools' tuition fees.
Chamber judge of the apex court's Appellate Division Justice Syed Mahmud Hossain stayed the High Court order for six weeks following a challenge filed by National Board of Revenue (NBR).

READ more: HC stays VAT on tuition fees for 6 months
Attorney General Mahbubey Alam told the Daily Star that the English medium schools' students have to pay 7.5 percent VAT to the government following the SC order.
Also READ: Discrimination against kids
He said that the 7.5 percent VAT was imposed from 2007 but the HC has stayed the imposition of VAT following a writ petition last month.
Writ petitioner's lawyer Dr Shahdeen Malik told The Daily Star he expected that the government would not appeal to the SC against the HC order and victimise the school children.
If the government feels that VAT from the school students would be its source of income then so be it, he said. "Let the government reap money from the students."
The 7.5 percent VAT on private universities' tuition fees sparked a wave of protests throughout Bangladesh, compelling authorities to withdraw the VAT.
Encouraged by such protests, the guardians of English medium school students also protested and demonstrated in Dhaka urging a withdrawal of the 7.5 percent VAT.
Last month, the High Court had stayed the VAT on those schools.