50pc vote cast in DNCC by-polls: EC secy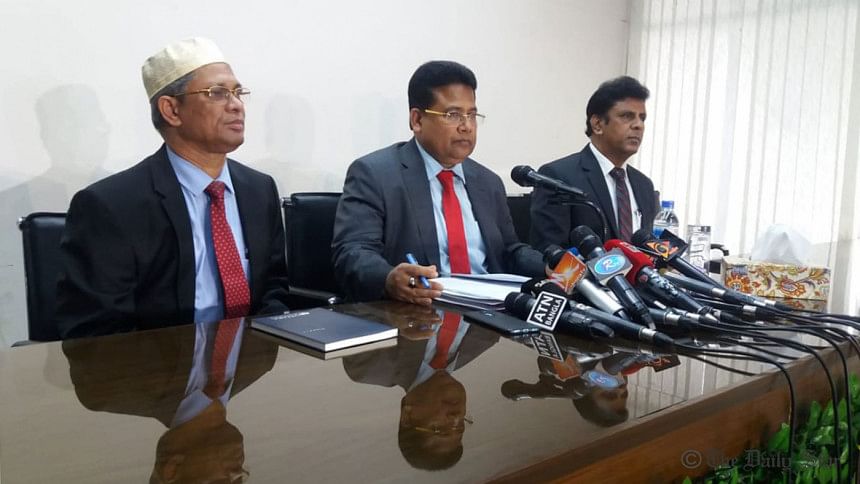 Election Commission (EC) Secretary Helal Uddin Ahmed has claimed that around 50 per cent votes were cast in the Dhaka North City Corporation (DNCC) by-election which ended this afternoon.
"We primarily estimate that turnout of voters in the election was 50 per cent," Helal Uddin said this while addressing a post-poll press conference at the Nirbachan Bhaban at Agargaon in Sher-e-Bangla Nagar of Dhaka.
Echoing the Chief Election Commissioner KM Nurul Huda, the EC secretary said the commission has nothing to do for the low turnout of voters in the election.
Earlier in the day, Chief Election Commissioner KM Nurul Huda said the low voter turnout in the elections is not the liability of the commission.
The CEC said it is the commission's responsibility to create an election atmosphere, not to bring the voters to the polling stations.
"We have taken all the measures for holding the election in a free, fair and credible manner. There was no flaw in the electoral system," the CEC told.
Voting in the by-election to the mayoral post of DNCC and polls to councillor posts in its 18 new wards and 18 other new wards of Dhaka South City Corporation (DSCC) concluded this afternoon amid low voter turnout.
The voting that began at 8:00 am ended at 4:00 pm.
In the DNCC, five candidates took part in the mayoral race, while 116 contenders for 18 general councillor posts and 45 aspirants for six reserved seats which are exclusively for women.
Of them, one general councillor candidate was elected unopposed in the city.
The five mayoral candidates are Awami League's Atiqul Islam (Boat), Jatiya Party's Shafin Ahmed (Plough), NPP's Anisur Rahman (Mango) and PDP's Shahin Khan (Tiger) and independent runner Abdur Rahim (Table Clock).
The mayoral post fell vacant after former mayor Annisul Huq passed away on November 30, 2017.